Learn everything you need to know to get more meetings with potential customers with these tips from our coach Carin Lagerstedt.
Being matched with corporates and public organizations is crucial for startups to learn how to develop their market offering and get their first customer.
Ignite's Branding & Content Marketing Coach, Carin Lagerstedt, shares all the key things to consider if you want to increase the chances to get more meetings with potential B2B and B2G customers through our initiative.

Understand How Ignite Searches for Startups
There are currently more than 2,400 startups on Ignite Magic's database. A best practice company profile is key to standing out among this enormous number of profiles.
Our starting point when searching for startups is always the needs and challenges of the participating corporates and public organizations. Prior to any matchmaking, we conduct a needs assessment with them to find out their pain points and innovation challenges.
The team searches for relevant startups both manually (e.g. reading the profiles of the companies that applied for a specific event) and with an AI tool called Miss Magic that goes through all the profiles in our database to find the startups that match relevant keywords. It is therefore important that your startup profile includes these keywords in both your short and long descriptions. Try including the words that the corporates, who are neither experts in your domain nor used to the way you describe your solution, would use to describe their challenge and what they are looking for.
Both our team and your potential customers should easily and quickly understand why your solution is a good match. Therefore, a best practice profile should aim to answer the following questions:
Why does what you do matter?
What results and/or pain points does it accelerate or solve?
What do you offer? What is the technology behind it and/or the solution it is built on?
Who does your offering make a difference for? (i.e. the typical customer or industry where your technology or solution is applied) What do your customers have in common? It is important to inspire them with specific examples and not be too generic.
Last but not least, don't forget to keep your company information up to date. Remember to regularly update information regarding team size, last completed investment, turnover, solution maturity, etc. All this information is taken into consideration when our team and the organizations decide if your startup is a good match.

Create Website Content That Helps Matchmaking Decisions
The information you provide on your website can also influence a matchmaking decision.
When shortlisting startups for corporates and public organizations, our team will always check out your website to make sure that what you do has the potential to solve their innovation challenges. The same will be done by their representatives when deciding whether to meet you or not.
This is why describing what relevant knowledge and insights you can share with partners and customers is key to driving interest in your startup.
Make sure to include this key information on your website:
Explain what you offer and why it matters in a snackable format. Make it easy to understand the reasons for buying your solution and how it is unique or different from other alternatives.
Give a taste of your area of expertise. Indicate from a wider perspective what your unique domain knowledge is about in order to make it relatable for someone who is unaware of your solution or has little insight on the topic.
Use case studies or helpful examples. Think of ways to illustrate a business case that shows the outcome of using your solution.
Remember that the people who visit your website for the first time want to know they are in the right place and what benefits your business will provide for them. Once you have caught their initial interest, your main goal should be to make it easy for them to identify the reasons why taking the next step is worthwhile, i.e. filling out a form or confirming a match with your startup.


About Carin Lagerstedt
Carin Lagerstedt is one of our coaches at Ignite with a focus on branding and B2B marketing within technical and industrial solutions.
She is currently working as CMO at Strainlabs with their innovative IoT bolts for predictive maintenance and mechanical insights. Together with the startup, she has participated in several matchmaking events arranged by Ignite where she had the chance to meet 10 corporations.
Carin has a track record in enabling efficient sales growth with digital content marketing – whilst building a thought leadership position in the process.
Our team shared insights on startup-corporate collaboration at a session held at the Malmö's incubator Minc last week.
With experience from more than 5000 tailored matchmaking meetings and over 350 collaborations between startups and corporates, we at Ignite have profound knowledge of how to succeed in these commercial partnerships.
During the session at Minc held last week, our colleagues Sara Hamlin (Head of Corporate Relations), Cathrin Johansson (Head of Startup Relations) and Linn Sidahl (Project Manager Matchmaking), together with Minc's Head of Sustainability Karin Lindrup, shared their key learnings on startup-corporate collaborations.

These are their best tips for startups when doing business with corporates:
Set clear goals in your commercialization strategy. Define who your dream customers are and research which are the biggest players in your field. It is also important that you talk to more than one corporate as many established companies will need time to create the processes to work with you, so don't be reliant on a sole customer.

Have a long-term perspective as well as a short-term one. No business can grow only by doing short-term pilots. It can be uncomfortable but important to be frank with corporates about what you want/need in the long term. Ask the corporate if they would buy your product in the future and become a long-term customer.

Take the right time to prepare for your meeting. We suggest startups take about 2 hours when you meet your first potential customers through Ignite. Once you get more experience and you are used to the format, as little as half an hour per potential customer will be enough. At Ignite we also provide you with tools and coaching for best preparing for your meetings.

Prepare to meet potential customers, not investors. Startups are more used to pitching to potential investors than meeting potential customers. Make sure to tailor your company profile on our platform Ignite Magic as well as your pitch deck to work for customers rather than just investors. This is new for some corporates as well. While many have investment departments, some are still working towards a more collaborative mindset. Despite these differences, Ignite always ensures that all corporates you will meet through us have the mandate and budget to work with startups. These meetings are 'not just for fun,' there should be a clear business case.

The corporates are also happy they get the chance to meet you. It is not just you that should be glad for this opportunity. Corporates have chosen you from a longer list of startups presented to them by our team when you are matched with them through Ignite. Going into the meeting with this knowledge allows you to dive deeper into their needs in a shorter amount of time.

Be clear about how long you mean when you set a timeframe. One of the most common frustrations is the difference in time perception. It is essential to set expectations and avoid terms like 'soon' which could be easily misinterpreted (soon to a startup could be tomorrow while a corporate is thinking 6 months). A suggestion is to already schedule a follow-up meeting at the end of the first meeting or at the very least, provide a set timeframe to get into contact with each other (i.e within 2 weeks).

Learn from the meetings that don't lead to further conversations. Unfortunately, some meetings won't lead to a collaboration or a follow-up meeting. The no's you get can be as important as the yes's. If multiple companies suggest pivoting or using technology in a certain way this can be a strong indication of a good market opportunity.

Understand that the corporates' internal processes might take longer than you expect. The corporates, like the startups, are all at different stages when it comes to working with startups. Some already have clear processes in place while others are still establishing them. They are used to spending money internally for R&D but less used to doing this externally. There are many challenges that they need to overcome regarding legal, technology, etc. that must be dealt with internally before they can effectively work with startups and this process can take time. It will take time for corporates to change their internal mindset and budget models.

Be explorative and experiment together. You don't have to start with something huge and long-term. A pilot can mean different things and it can be developed from what stage you are at. Many corporates want to meet with early-stage startups so they can develop something together, while others are looking for late-stage solutions. Smaller, short-term collaborations can allow you to scale together. Many of the Swedish corporates you can be matched with through Ignite are large global companies and scaling with them means that you can scale globally with a local company.

Last but not least, don't forget to tell your investors that you are in negotiations with potential customers. Having a track record with customers can add a lot of value in the eyes of investors.
Ignite Sweden teams up with Innovation Pioneers to present iX sessions that aim to share, learn and co-create a shift to a stakeholder focus to benefit more sustainable and profitable business models. Sara Hamlin (Ignite Sweden) and Susanne Fuglsang (Innovation Pioneers) tell us more about the new series in this article.
A new impact economy is being built, one where businesses prioritize and consider their impact on all the stakeholders they impact—including communities, workers, customers, and the environment. Ignite Sweden and Innovation Pioneers now team up for three joint iX Sessions in 2021 on the theme "Shareholder vs Stakeholder value". The goal is to share, learn and co-create a shift for our member companies to a stakeholder focus to benefit more sustainable and profitable business models.
"With organizations around the world facing similar challenges, there is strength in coming together to share and learn how to navigate the new society. With the current shift to all-digital events, it felt like a great opportunity to bring Innovation Pioneers' and Ignite Sweden's members together to understand the importance of having a stakeholder-focus for the future," says Susanne Fuglsang, CEO of Innovation Pioneers.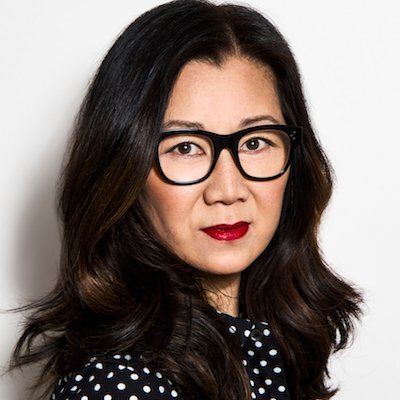 Ignite Sweden and Innovation Pioneers are two of the leading innovation platforms in Sweden. Ignite Sweden is a non-profit initiative that aims to foster innovation and accelerate commercialization by connecting startups to large companies and public organizations. Innovation Pioneers is a social network and learning platform founded by innovation leaders and practitioners with over fifty member organizations from a wide cross industrial background of companies, organizations, government agencies, academia and research.
"Our networks complement each other with a shared focus on innovation but from different perspectives. We believe the startup and corporate worlds can learn from each other when preparing for the future. Corporates can learn to adapt a startup mentality and move faster, while startups can benefit from the structure and worked-up global network of corporates. Bridging our networks for these iX sessions on the shareholder economy has the potential to create true impact, says Sara Hamlin, Business Developer at Ignite Sweden.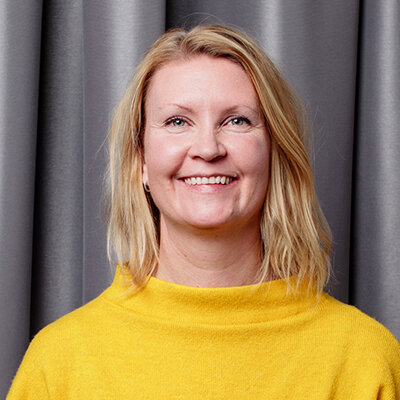 The first iX Session on March 10 will be on the theme "Global impact" and take a bigger focus on financing, the impact economy, and how companies are affected by a mind shift from shareholder to stakeholder. The upcoming two sessions will be hosted on June 9 on "Digital innovation" and on September 22 on "Sustainable innovation".
"Globalization, digitization and sustainability put pressure on that the shift from shareholder to stakeholder needs to happen now. In a way, the pandemic has helped us make this shift quicker, as we see a different maturity in the digitalization of organizations today. We are now more prepared to look ahead and take responsibility for the future", says Sara Hamlin.

"The iX Sessions will highlight the importance of focusing on all stakeholder perspectives for the business, not just when working with innovation but within the whole organization. We'll also have members from both networks share their own shifts to a stakeholder focus, to set the foundation for truly taking action going forward", says Susanne Fuglsang.
iX Session participants will take part in research and learnings on the impact and stakeholder economy to understand the importance of involving all parts within an organization's ecosystem in the business model. The main focus of the sessions will be on open sharing between members, with discussions, collaboration and shared reflections.
The iX Sessions will be open exclusively for Ignite Public & Corporate Members and Initiators & Members of Innovation Pioneers.
Click here to secure your seat now for the Session 1 on Global Impact on Business that will be held online on March 10.
How to best move from a pilot project to a full rollout is a sticking point for many corporate and startup collaborations. Three AI startup CEOs discuss how companies can better prepare for scaling projects from the very beginning.
It can be difficult to move from the pilot process to the rollout phase but there are some practical ways to ease the process, including clearly defining what problem the startup is there to solve early on.
"Corporations can sometimes get over excited about new technology like AI. It is easy to lose track of what problem you will solve. At the end of the day, it is just another tool that's going to help the corporate. Without real problems it will be hard to show your true value and get things done," says Jon Linden, CEO of Ekkono.
To address this issue, Shahan Lilja, CEO of Mavenoid suggests a practical way to get everyone on the same page before a pilot even begins. Mavenoid always creates a one-page project charter with their customer that clearly defines the purpose, goals, deliverables, timeline, stakeholders of a potential project.
"We always try to make the customer a part of the process of making it. It is very important that multiple stakeholders on the customer side feel that they have created this artifact."
Martin Rugfelt, CEO of Sentian, also says this pre-process is essential and adds that having domain expertise in the room and available to work on the project from the beginning, as well as agreeing on data access to ensure the technology can work for the company is also crucial for success.
"We also put a lot of effort into the KPI:s and how to measure them so we really understand each other and the value we create is measurable."
Ensuring the business model is sound is also essential to getting over the scaleup hurdles and for Jon, this shouldn't be such a big issue if you have set the right goals in place at the beginning.
"The pilot should be an integral part of a project, it shouldn't be a stand alone thing. It should be a validation along the way to solving a real problem. The question should really be what does it take to roll this out and the focus should be on the end product of the problem you're trying to solve rather than the pilot being an end of itself."
Martin adds that you need to have a good process for testing and learning from that first pilot, so any issues that arise can be fixed and the project can be scaled up. This means there needs to be training and all of the other components. "Just because you are working with a startup doesn't mean it is going to be cheap, it is going to cost just as it does when you are rolling things out with bigger companies."
"You can't validate your business model by giving things away for free. Always charge for something that adds value to the customer. By digging into what value your solution brings to the table, it is much easier during and after the pilot to show the value of your technology. If you successfully solve a problem easier and cheaper, you will have successful collaboration and a new customer." says Jon.
Sharan also says building the business model into the contract at the beginning of the pilot can ensure you're talking to the right people from the start.
"You will be forced to talk to the real problem owner. Instead of the innovation officer who may get promotion based on the number of projects they run. Then you hopefully solve the real problem and show the real value of your technology."
Five Main TIps from AI CEOs:
Have a clear goal from the beginning- Make sure both parties are on the same page and have an understanding of what challenge the startup will provide a solution for. One way to do this is to create a short project charter before the process starts.

Have clear KPIs-

It is important to be able to measure the value and success of the collaboration as it moves forward.

Don't make the pilot an endpoint-

Go into a collaboration with the assumption that it will continue past the pilot stage. The pilot should be seen as a type of quality assurance rather than stopping point.

Don't give your product away for free-

Startups are providing a product or service and it is not a sustainable business model to give this away for free. Charge for something that adds value to a company.

Have the right processes in place-

Make sure there is the capacity for testing and scaling up. Get the right people in the room from the beginning including domain experts.
Watch the full discussion on how to design an AI pilot for success here:
Ignite Program Manager Stina Lantz spoke to nearly 70 participants around the world from the Volkswagen group late last year about the benefits of working with startups.
Hosted by IDEATION:HUB and Future Mobility Incubator, their 8th startup community session focused on how to drive startup collaboration in the future. The internal event aims to improve innovative thinking within the Volkswagen group and Stina was invited to provide practical advice and insight into the benefits of working with startups.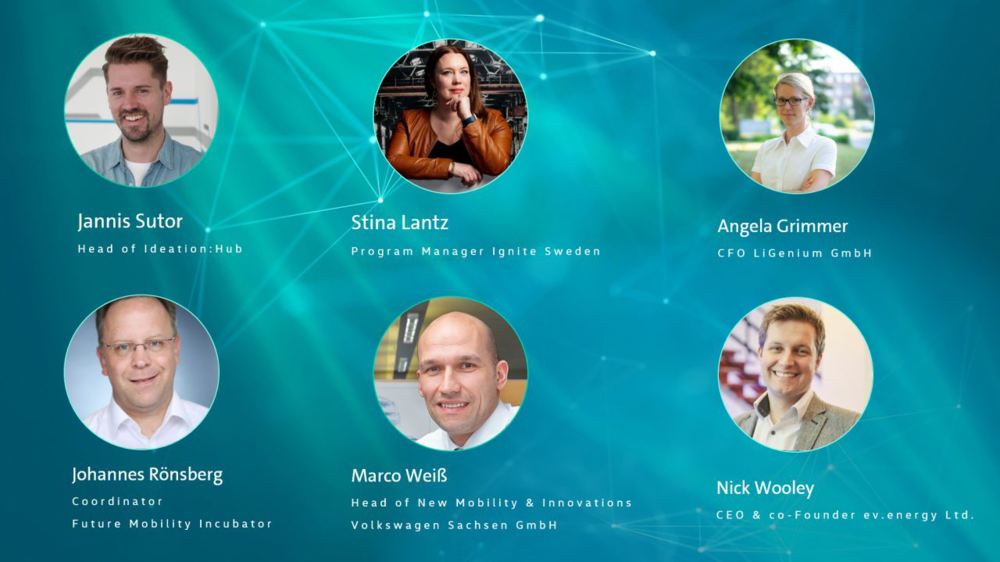 Introducing Ignite's work, Stina focused on not just the obvious advantages of collaboration but also the unexpected wins for both startups and larger companies including Volkswagen.
"Corporates often feel they don't have anything to offer if they don't invest in startups but that isn't what startups want according to our annual survey. It's more important for them to develop strategic partnerships and verify both technology and business models with corporates. When we asked what corporates wanted they were more interested in new technologies and access to entrepreneurs' knowledge and energy to develop their internal innovation culture."
At a first glance these two goals don't work well together but Stina says she has seen two main unexpected advantages of collaborating with external startups.
"Firstly we see increased talent attraction for the corporate, and we also see a change in the teams working with startups. They change their overall work processes, they are more open to solutions and out of the box thinking. This means companies aren't just gaining new innovations faster, they are also developing unexpected solutions that lead to greater results."
Participants from around the world also received some practical advice to improve their future collaborations.
"When you are considering starting something new, always start by looking on the outside because it will be cheaper and faster to work with existing solutions. Become a customer rather than an investor, and make sure to test the business case as well as the technology. It's also important to have the people who will be involved in the rollout on board from the beginning to shorten time cycles."
"Finally don't be afraid to experiment and celebrate all these experiences equally. Not just the successes but also the failures because they are both important to reach your goal," says Stina.
Elisa Schmidt, Communications and Event Manager at the IDEATION:HUB says Stina's insights came at a great time as there is already a lot of interest within Volkswagen to work with startups. The 8th Startup Community session provided a positive platform to work through ideas and challenges.
"We are working hard every day to excite our customers and deliver excellent products and services. Over the years, we have learned that this works best by collaborating and learning from each other. Although we have strong internal innovation processes, perspectives from outside the company have also proven to be motivating and inspiring. That's why partnering with startups is a crucial part of our daily work and we are even more eager to develop the most innovative solutions together."
This year's final impact startup used their gaming development and machine learning skills to change industry and improve aircraft safety.
Attractive Interactive is a gamification company that primarily focuses on game development with the goal of making game creation more accessible to everyone. Their current game encourages children to draw their own maps to create their own levels or mazes.
In 2019, the startup had a major change in direction when they were matched with SAAB at Ignite Gaming. They were asked to help them better analyse their sensor data to then amplify important information to assist pilots' land in bad weather conditions.
Soon after, they also applied their knowledge of AI, machine learning and optimization to prevent overheating parts of the plane, again improving safety.
COO and Co-founder of Attractive Interactive, Pontus Björkberg says it was interesting to expand their thinking about technology they had previously only applied to gaming development.
"Ignite set us a challenge asking if we could solve a problem. We got instantly hooked and felt we just had to do this. It was exciting to apply our knowledge regarding gaming development on brand new issues."
Watch Pontus speak more about their work here:
This week's impact startup is increasing the usability of data to address various global needs including industry efficiency and water quality.
Today many organisations suffer from having a lot of data available to them but lack the resources to properly interpret it. Gemit Solutions describes this as having DRIP or being "Data Rich but Information Poor."
They aimed to create a solution that didn't require a data scientist to find the most important information. The platform allows organisations to get useful data sets quickly.
Jonas Bäckman, CEO and Founder of Gemit Solutions says they want to use their product for good. 
"By making it possible to easily analyze industrial data, our customers can reduce their energy consumption and natural resources. These are prerequisites for moving towards a circular economy, which is a requirement for our children to have a future."
Gemit contributes towards Sustainable Development Goals 9 (Industry, Innovation & Infrastructure), 11 (Sustainable Cities & Communities), and 12 (Responsible Consuption and Production).
Listen to Jonas talk about Gemit and their experience with Ignite Sweden here.
This week's startup is making it simpler for businesses and the public sector to order local, organic supplies.
Purchasing local, organic food has many benefits, it's better for the environment and health as it spends less time in transit and is fresher when it arrives. However many businesses have difficulty sourcing from smaller local suppliers and instead often rely on larger chains that are not as local.
Stockfiller uses their software platform to simplify the ordering process between suppliers and buyers and allows smaller businesses to access new markets such as municipalities.
For Södertälje municipality, who met Stockfiller through the Ignite Public program, this meant they could buy more locally and organically. According to Lukas Jaktman, Sales Team Leader from Stockfiller this created a 'win-win' situation.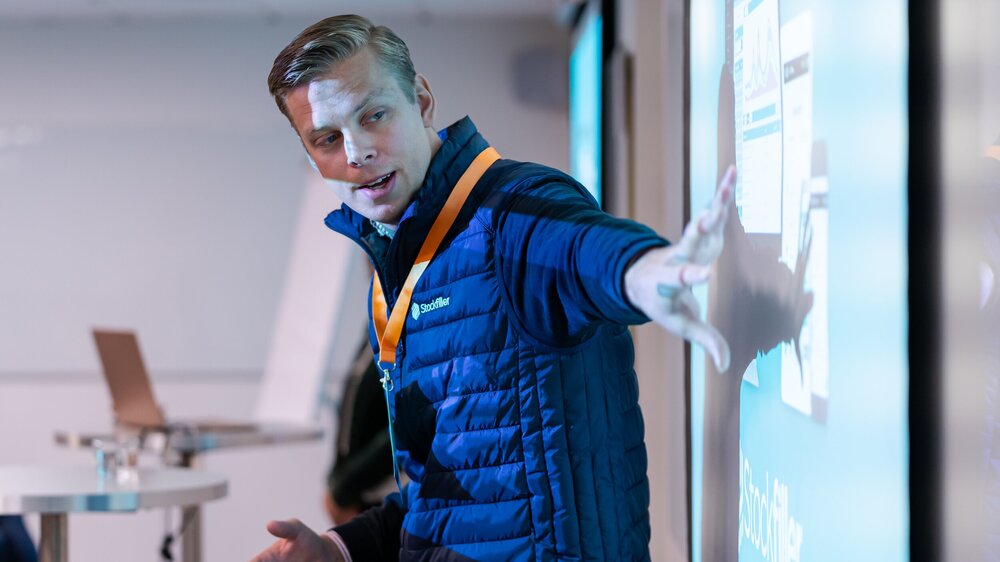 "This is beneficial for the children eating the food, it's better for the purchaser and it's better for the small supplier who may not have been able to sell to the public sector otherwise. What I'm most proud of is that we help both small, local suppliers and schools also get better organic food that is grown in their local area," says Lukas.
Stockfiller's work contributes directly to Sustainable Development Goal 12- responsible consumption & production.
Watch Lukas speak more about Stockfiller's work here:
This week's impact startup is using data analytics to measure how people move through buildings, businesses and even entire cities.
Bumbee Labs measures visitor flows using data from smartphones connecting to wifi and analyses it to give companies and the public sector the information it needs to make more efficient and sustainable decisions. Their statistics can help improve services, accessibility and make cities smarter.
Getting this information in an ethical way is increasingly important as businesses and cities want more data to measure their impact on the public but this cannot come at the cost of individual privacy.
Uniquely for this kind of data collection, Bumbee Labs is fully GDPR compliant and has been approved by the Swedish Data Protection Authority (They are the only company in Europe to have this governmental level of approval).
Keeping information anonymous was a worthwhile, if technically challenging process, says Staffan Liljestrand, Founder and Chief Science Officer. "We work a lot with city development which is all about building our future smart and sustainable cities. It's key that our data is used in a good way."
Bumbee Labs works directly with Sustainable Development Goal 11, sustainable cities. They have also worked with Uppsala municipality to improve their city library services, after meeting through Ignite in 2019.
Watch Staffan speak about their innovation at the 2019 Ignite Conference here:
This week's startup is using machine learning technology to service machines at the perfect time, reducing wastage and improving efficiency.
Heat exchangers are integral to many industries but are prone to 'fouling.' This occurs when dirt on the heat plates causes extra resistance and reduces efficiency. Studies* have shown that fouling can contribute up to 2.5% of global carbon emissions, a huge sustainability challenge!
Things member Ekkono have teamed up with Alfa Laval to work towards a sustainable solution. They are using a combination of data from heat and pressure sensors together with Ekkono's machine learning tool to reduce the effects of fouling.
"We can make a heat exchanger smarter and learn when the fouling has occurred. This gives us knowledge about predicted maintenance, so you know when the machine needs servicing," says VP of Sales and Co-founder Anders Alneng.
Servicing the product at the right time reduces the impact of fouling and reduces waste and cost by replacing parts at the right time.
Through this and other projects Ekkono directly contributes to SDGs 9 (sustainable industry) and 12 (sustainable consumption and production).
Watch this interview with Anders Alneng.
* Source: http://heatexchanger-fouling.com/proceedings15.htm