A delegation of Swedish startups and incubators travelled to Toronto for Sweden Canada Innovation Days to explore the ecosystem and meet Canadian corporates.
In September 2022, representatives from nine Swedish startups, Algoryx Simulation, Cellfion AB, Ekkono Solutions, FLOX, Gleechi, Kairos Logic, Repli5 and SentianAI, along with incubators, Create, Uminova, and ENN, joined the Ignite delegation for the Sweden Canada Innovation Days.
The event aimed to strengthen connections between the two countries and included ample opportunities to share best practices and explore the Canadian innovation ecosystem.
Why Canada?
Sweden and Canada have many similarities and for Atulya​ Verma, Principal Engineer Geotech and Geology at BESTECH, a Canadian corporate specializing in engineering, automation, software development and environmental monitoring services to global mining companies, there are many benefits to connecting the two countries.
"The industrial challenges faced by Sweden and Canada have lots in common as well as their respective geographical and demographic situations. There is substantial opportunity to learn from each other and forming connections is valuable because the complementing skill sets can benefit from each other," he explains.
Joakim Stenman, Business Development Manager, Repli5, a Swedish startup working with synthetic data and digital twins agrees saying Canada is important for them as it is a huge market for mining operations and their supply chains.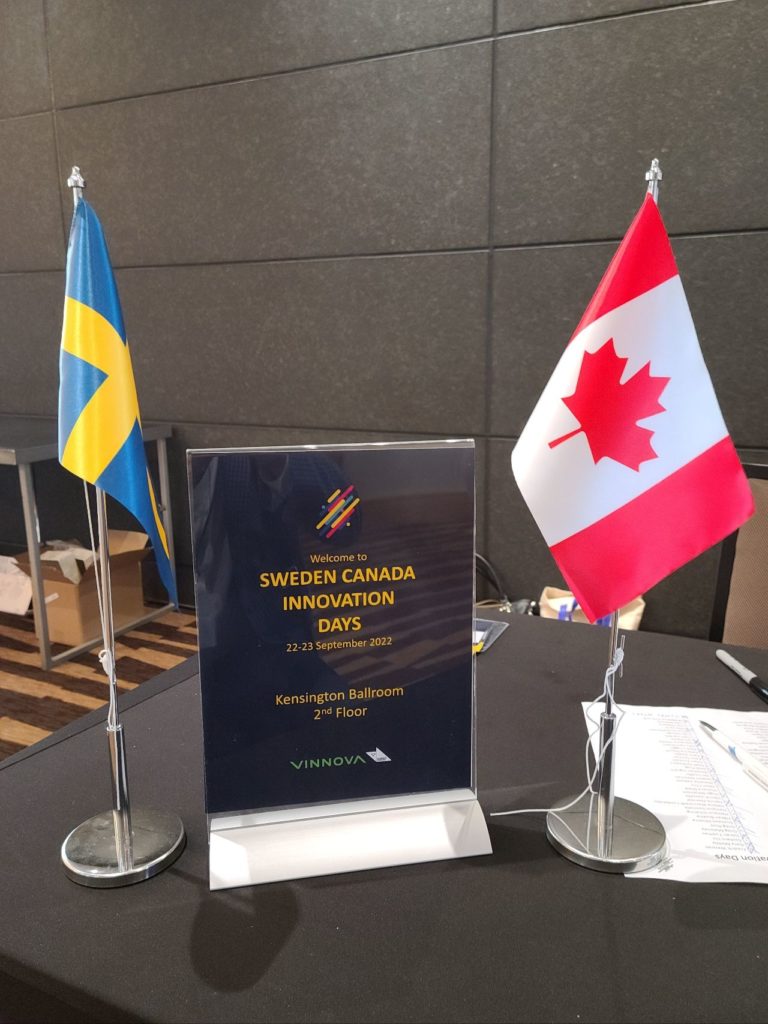 "I was very pleased to get an opportunity to pitch our company for the entire conference, but also to be able to physically meet up with one of our POC partners on the spot!
By attending the conference and introducing our company to several key industry stakeholders, our main goal was already fulfilled. I hope that it generated some interest from Canadian organizations," he says.
Exploring the Canadian Innovation Ecosystem
The delegation spent three days attending a range of roundtables, workshops and networking events as well as a tour of the local innovation ecosystem and an in-person matchmaking with Canadian corporates.
To kick off the trip, startups visited the DMZ, a leading Canadian tech incubator that not only aims to foster market opportunities for Canadian startups but also helps international ones explore the North American market.
"We believe that by sharing knowledge and resources to support one another, we can be a catalyst for global innovation."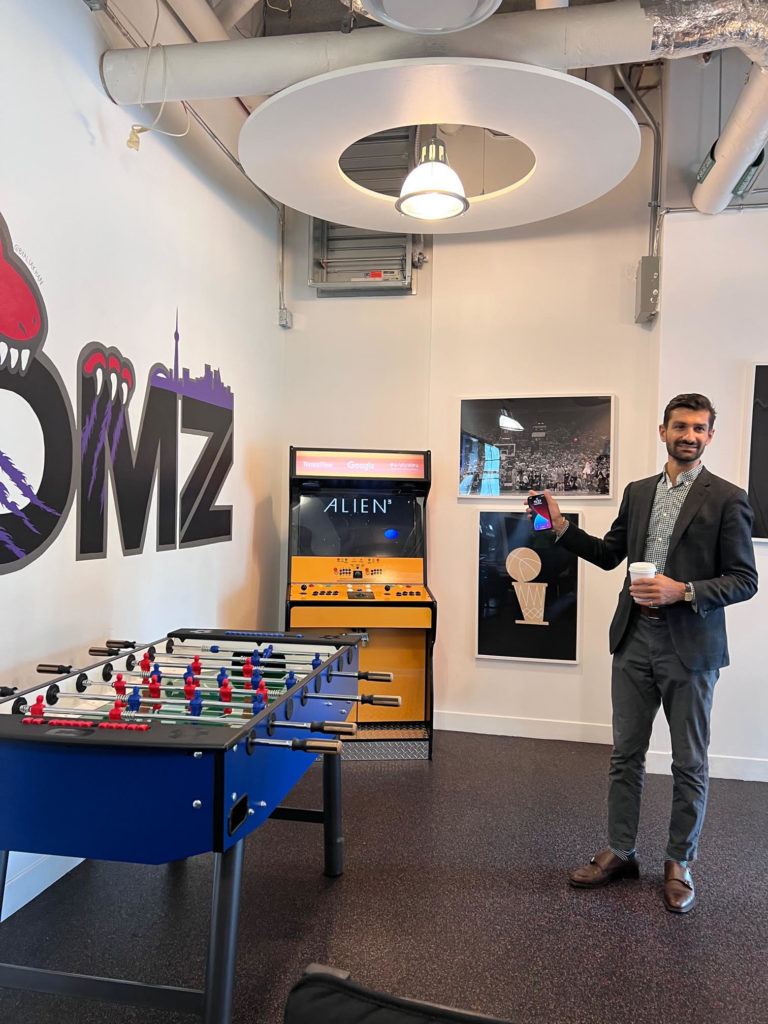 "Historically, there have been strong ties between Sweden and Canada in the cultural and economic contexts and we're excited to continue growing this relationship in the innovation and technology fields as well," say DMZ's Sweeny Mangal, Senior Partnerships Lead and Andrea Richardson, Director of Business Development and International Projects.
Maria Olofsson, Operation Manager at Uminova Innovation and Process Developer at Ignite Sweden, agrees that this relationship building is the primary reason for delegations of this sort.
"For us as an incubator, it is extremely important to meet actors beyond Sweden's borders, partly to develop our business support, but also to give our companies greater opportunities internationally. We come home with new collaborations on so many different levels," she says.
For Carl Stålhem, COO at Gleechi, a Swedish startup that has developed hands-on VR training software, the visit to the DMZ was one of the key highlights of the trip.
"Aside from meeting interesting potential partners and customers, the visits to the DMZ and Vector Institute both stand out. Hearing about the apparent success of the Canadian National AI Strategy was also very inspiring."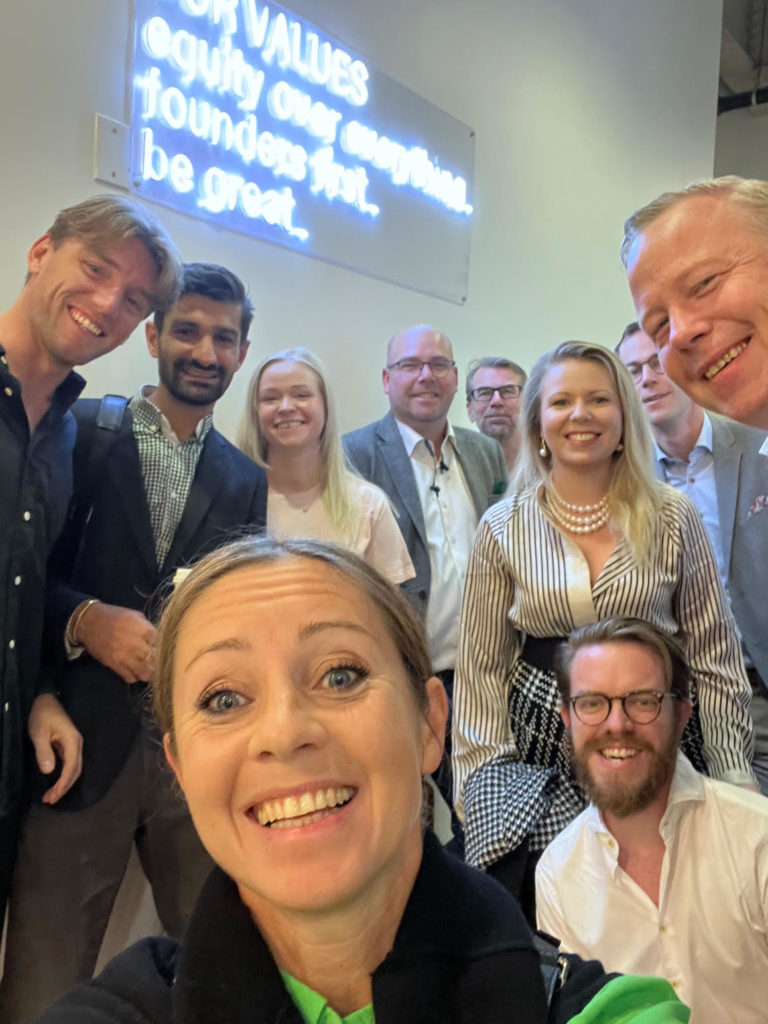 Advantages of Meeting In-person
Another key aspect of the trip was the Ignite Sweden-Canada Matchmaking which took place on the third day. Many of the companies had previously met digitally, but meeting face-to-face allowed deeper conversations into potential future collaboration.
"For us, meeting in person is always beneficial as we are in the Virtual Reality industry. Experiencing VR live gives a much better understanding of the technology and its capabilities," says Carl Stålhem, Gleechi.
The in-person format was also successful for BESTECH according to Atulya Verma.
"We see working with startups as an opportunity to work together for the benefit of the industry as a whole. Our meetings went well and we are already in the next stage of project discussions with a few of the startups."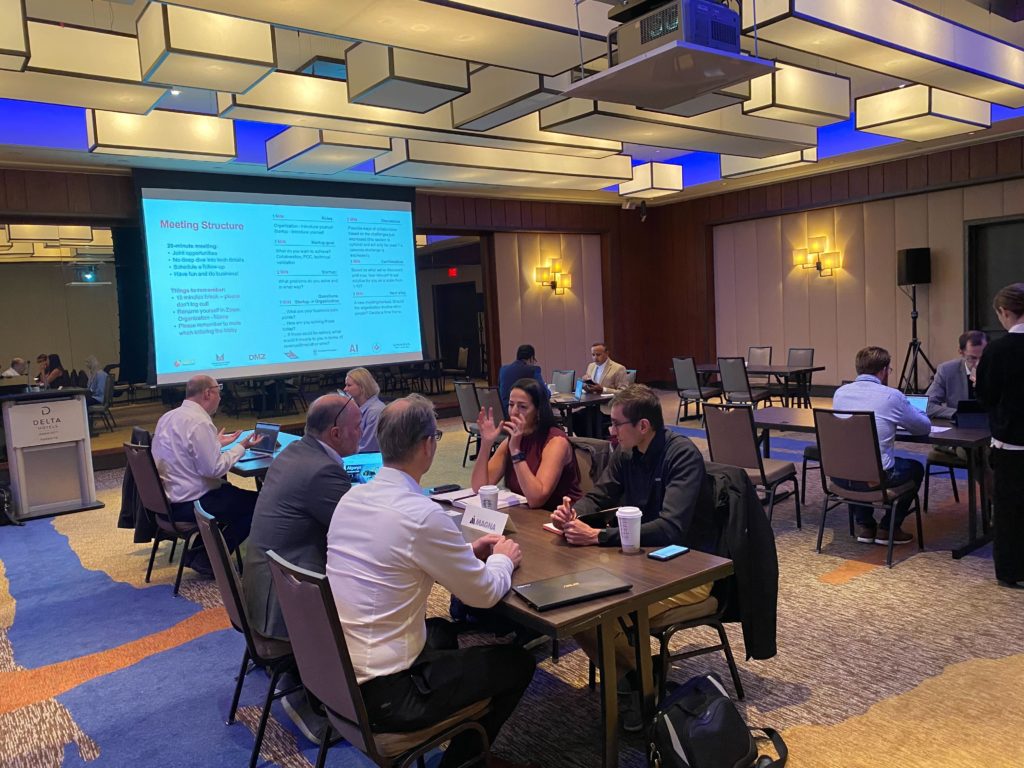 In addition to the in-person meetings, three more startups also participated digitally leading to 34 meetings in total.
Sweden Canada Innovation Days was organized in collaboration with Ignite Sweden, AI Sweden, Business Sweden, The DMZ, European-Canadian Centre for Innovation and Research and Vinnova – Sweden's Innovation Agency.
Last week we participated in two industry fairs Scanautomatic and Nordic Food Industry, and at an event for the automotive supply chain together with a startup delegation.
Firstly we joined the IndTech Lounge at Scanautomatic, a three-day meetup with a focus on the future automation and digitalization of industry.
During the fair, our Program Manager and SISP's interim CEO Stina Lantz took to the stage with indtech startups Sally R, Elonroad, Stream Analyze and IPercept Technology to discuss how large companies can implement innovative solutions in collaboration with startups.
The startups Beotop Innovation, Strainlabs and Stream Analyze participated in the fair as exhibitors.
Simultaneously, Ignite Innovation Process Leader, Linus Arnold, spoke at the Nordic Food Industry fair on how startup collaboration can save companies years of innovation work.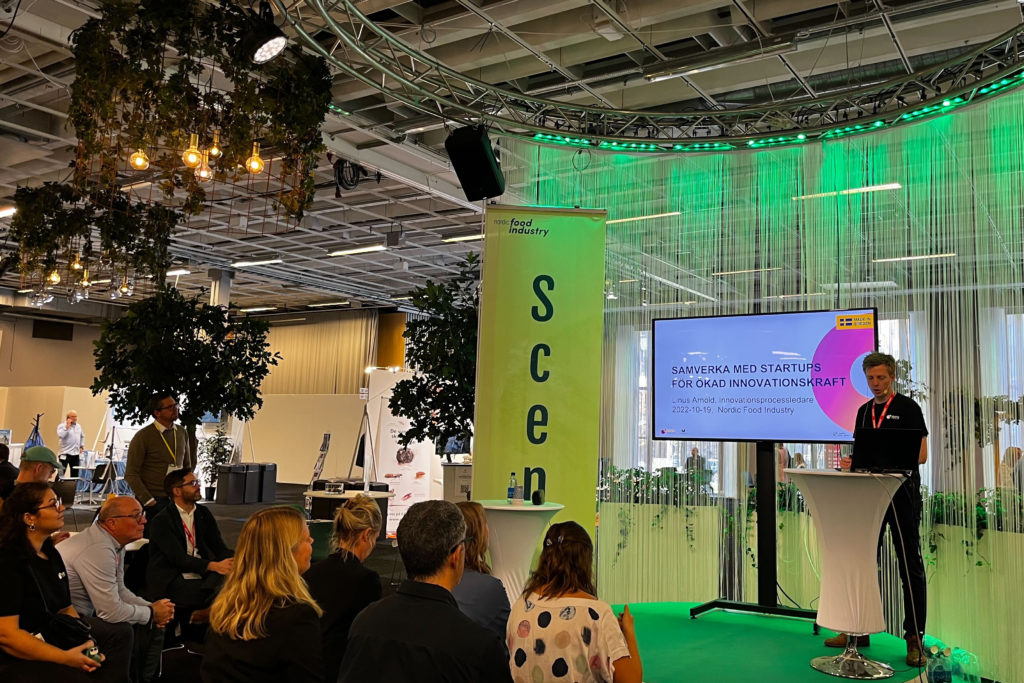 Seminar for the Swedish Automotive Supply Chain
On Thursday, our team joined the event for the Swedish automotive supply chain "Stora Leverantörsdagen", organized by FKG – Fordonskomponentgruppen for their members. Over 300 people attended the event, where we arranged a seminar about the need of a more sustainable automotive industry throughout  the value chain, and the benefits of speeding up digitalization in collaboration with Swedish startups.
The seminar included an interview with Magnus Lundin (Scania Group) and a panel discussion with representatives from the startups Compular, Elonroad, Gimic and IPercept Technology. The startups also had the chance to pitch on stage and exhibit their innovations.
"For us it is a great opportunity to exhibit Swedish startups to the automotive industry and its subcontractors, and we got a great response and a lot of curious questions from the audience. I hope this event will lead to some of the attendants trying out our matchmaking process, and lead to new collaboration projects between Swedish Startups and FKG members," says Ignite's Key Partner Manager (Corporates), Niklas Sikström.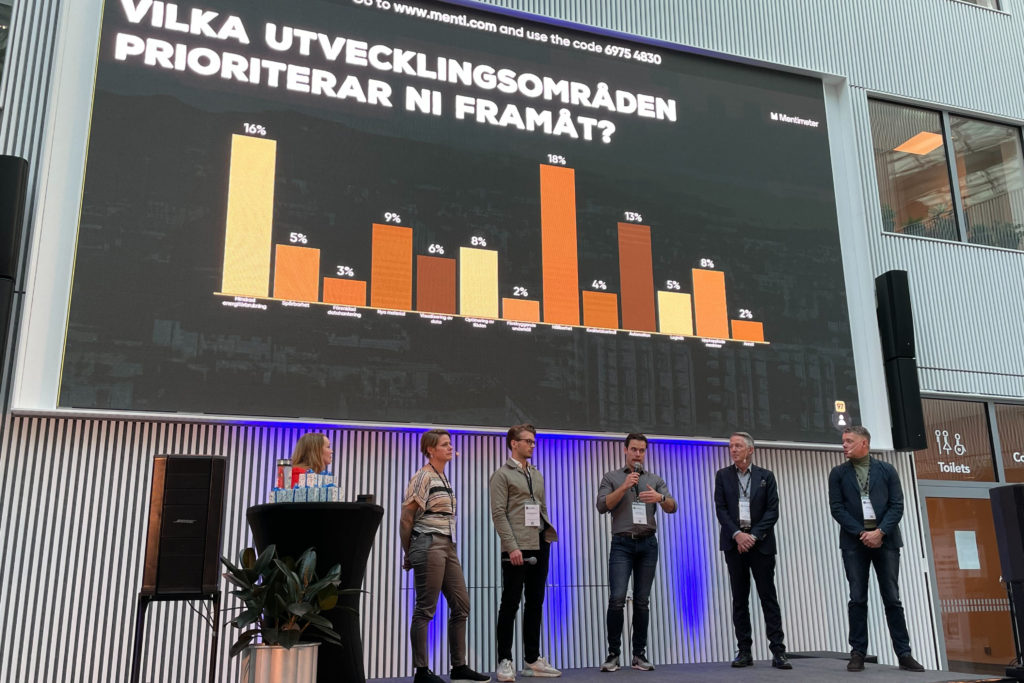 First Exhibitions After the Pandemic
Ignite Project Manager Matchmaking, Linn Sidahl said the week was one of the first exhibitions after the pandemic and highlighted the importance of meeting up in person.
"It was a good way for startups to meet the industry and corporates to scout new technology trends in the automation process and food industry. We at Ignite ended the week filled with new inspiration and so much energy from meeting startups, members and partners," she concludes.
This latest version of the initiative led by AI Sweden and Ignite Sweden now features 198 AI startups.
AI Sweden and Ignite Sweden has launched a new update of the Swedish AI Startup Landscape with the addition of 15 new AI startups. 198 companies are now part of the Landscape.
"We know that AI startups play an important role in creating innovation and growth in the field of AI. Through the European AI Startup Landscape initiative, we help shine a light on AI startups across Europe. We believe the landscape is a brilliant marketing channel targeting international investors and potential customers, thus helping the featured AI startups to accelerate and grow," says Katarina Fégeant, Startup Program Manager at AI Sweden.

The Swedish landscape is part of the European AI Startup Landscape that today features 800+ AI startups from France, Germany, Norway, The Netherlands and Sweden.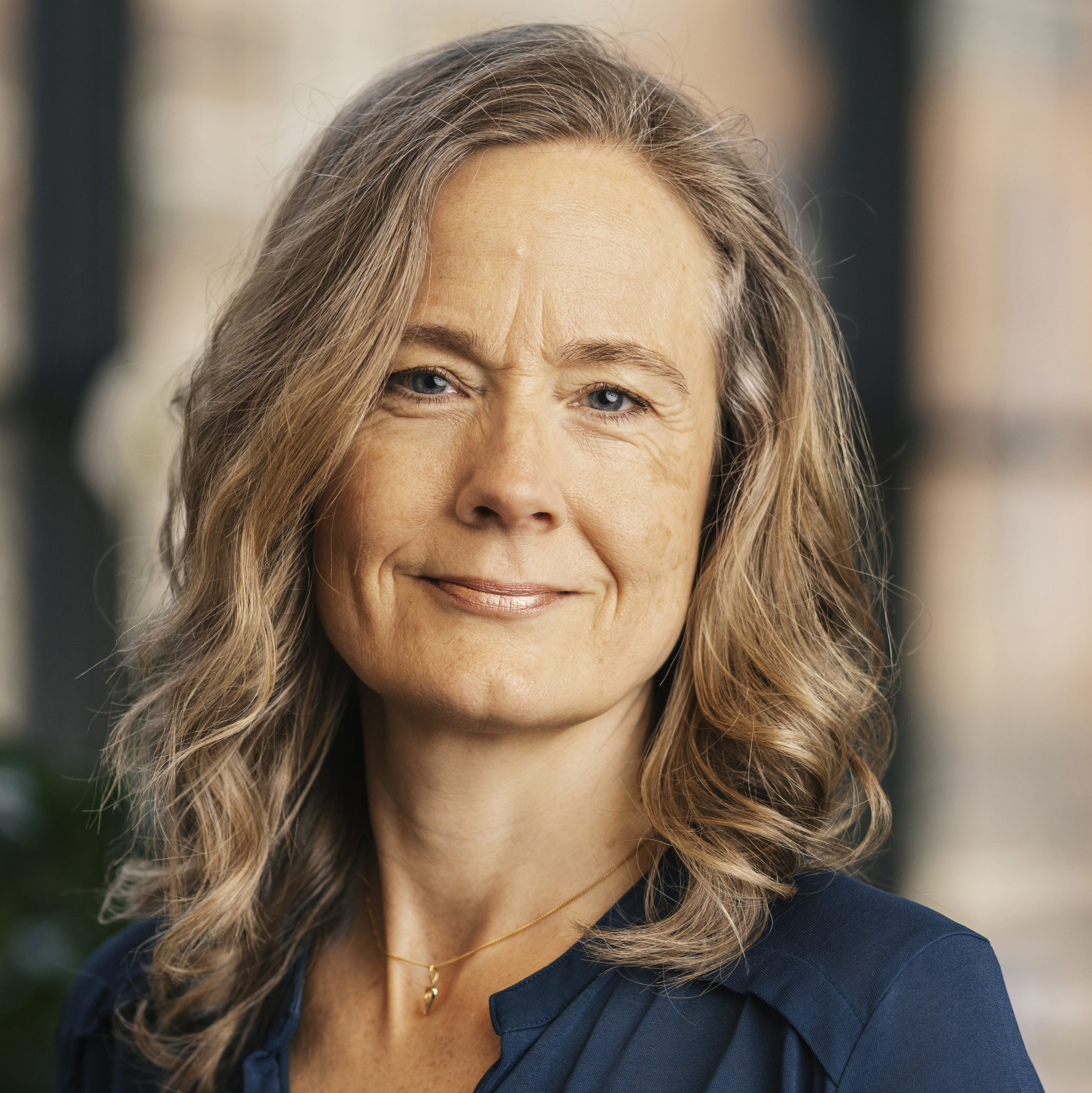 Startups With A Wide Range Of Solutions
A committee with representatives from investors, large companies, academia, startups, and incubators has been responsible for the evaluation of the new startups in the landscape. They have been using a range of selection criteria including, their use of AI, scalability, access to and use of data, and their personnel's AI skills.
These new startups develop solutions for a wide range of sectors including education, entertainment, forestry, health, manufacturing, real estate, transportation and security.
One of the new startups in this update is DBtune, which offers database tuning software as a service, helping users to automatically train recommendation models, driving up to a 50% reduction in annual infrastructure costs.
"As part of the Swedish AI Startup Landscape, we are really excited to have the opportunity to get to know new partners and potential customers who could benefit from what we do. We are at a critical stage of our journey and are hoping to scale our reach and visibility within the Swedish and the European startup entrepreneurial communities and establish ourselves as one of the leading AI deeptech technology players in the EU," says CEO and Founder, Luigi Nardi.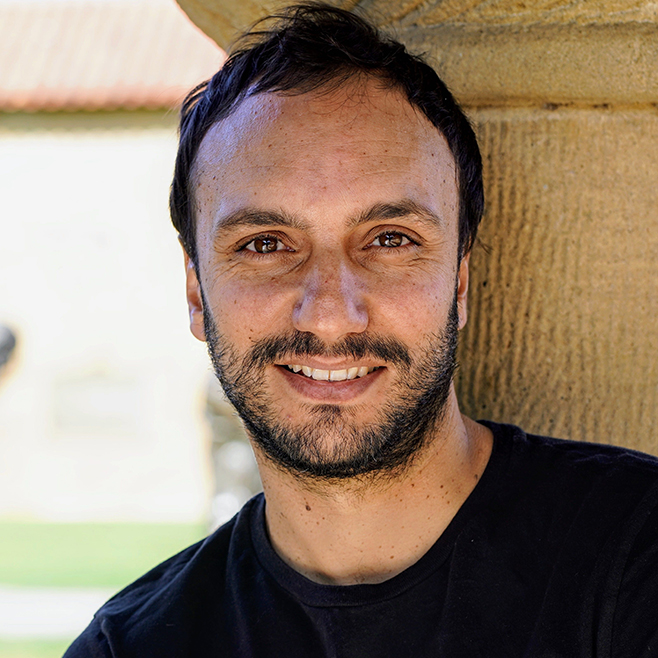 "For our startup, spending time with Sweden's AI elite is a given. I hope the landscape can help us create a strong European voice and best practice for ethical AI," says Mathias Andreasson, CEO and Founder of Fictive Reality, a learning and assessment dialogue simulator powered by AI technology.
According to Magnus Lasses, Product Manager at Laholm based startup Meta Bytes, the landscape also gives visibility to tech businesses located outside big cities that might not be top-of-mind when it comes to AI and tech.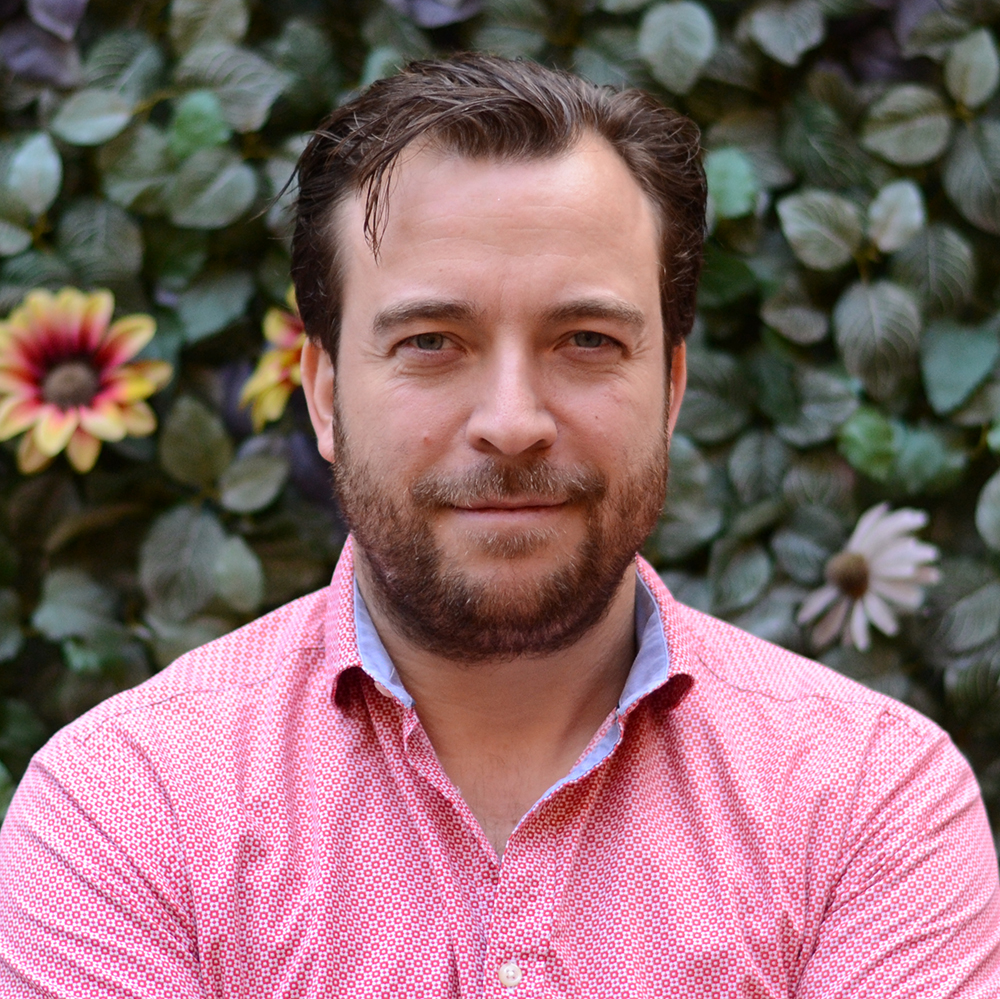 Meta Bytes develops Bäck AI, a product that helps companies regardless of location accelerate their document workflow by reducing the time spent on manual data input.
"To be featured in the Swedish AI Startup Landscape is a confirmation of our tech know-how and expertise when it comes to artificial intelligence, and a great way to showcase our valuable product at a national and European level among other cool Swedish AI startups," he concludes.

These are the 15 startups added to the Swedish AI Startup Landscape
Buddywise: Enables real-time safety monitoring through computer vision
Cetasol: Digital analytical platform for energy optimization for small and medium-sized vessels
DBT Solutions: AI-powered database tuning service
Ecotwin (Dynamic Topologies AB): Real ecosystems simulation with AI
Fictive Reality: learning and recruitment in the metaverse
Green AI Cloud: sustainable high performance cloud service for AI computing
Ledai: Engineering consultants in industrial machine learning
Meta Bytes: helps companies with digitalization, process optimization and automation using software development, cloud infrastructure and machine learning/AI
Monava: monitors natural disasters in alpine environments
myhomefield: AI driven spontaneous training and sport coaching
Oxide: explainable AI for all data-intense domains
PandionAI: increases safety and transparency in society by securing the need for timely information
Parametric Solutions: automated architecture for sustainable cities
Pirr: co-create erotica, powered by AI
Taigatech: providing sawmills with traceability through computer vision

The evaluation committee
Agneta Jacobson (AI Sweden)
Stina Lantz (SISP/Ignite Sweden)
Johanna Björklund (Umeå University)
Helene Niklasson (Volvo Group)
Daniel Gillblad (AI Sweden)
Rebecka Löthman Rydå (Inventure VC)
Patrik Kägu (Almi)
Vik Li (Ericsson Ventures)
Adam Edström (RISE)
Ingrid Af Sandeberg (Stockholm AI)
Martin Rugfelt (Sentian)
Raoul Stubbe (Sting)
Jakob Engdahl (Statistics Sweden)
Fredrik Weisner (Vinnova)
Click here to access the latest version of the Sweden AI Startup Landscape.

Startups interested in applying to be featured in the next update of the landscape can read how to submit their application here.
Ignite Sweden had an active role in the creation of the winning teams that will help Bogotá, Bristol, Curitiba and Makindye Ssabagabo accelerate the shift to climate-neutral cities.
Green Routes, Thriving Places, Curitiba Smart Neighbourhoods and Green Community Cities are the winners of the Climate Smart Cities Challenge. The four winning teams will share up to €400,000 to work on innovative solutions to reduce carbon emissions in the cities of Bogotá, Bristol, Curitiba and Makindye Ssabagabo.
Four Swedish startups are part of the winning teams: Impulser (Green Community Cities), Nodon technology (Thriving Places), Nudgd and Smart Green Station (Smart Neighbourhoods).
"Cities are crucial for a successful transition to climate neutrality, and they can't do it without the support of essential actors from civil society, academia, business and government. The Climate Smart Cities Challenge adopts a systems approach to address one of the most complex challenges we face today, to ensure a better future for all," says Rafael Tuts Director, Global Solutions Division at UN-Habitat.

From Finalists to Winning Teams
At the beginning of this year, and after reviewing nearly 200 proposals, a total of 45 companies and organizations were selected as finalists in the competition. For the past months, the finalists for each city worked on coming together as teams to propose combined and collaborative solutions to address the cities' challenges such as freight mobility and affordable housing from a system perspective.

At the end of the co-creation phase, a total of 12 teams prepared submissions and presented their ideas in a series of pitching sessions in front of city representatives. An expert advisory panel evaluated the team submissions and made their expert recommendations to the cities who have decided on the four winning teams.
The winning teams will share up to €400,000 in a planning phase to build towards demonstrating their solutions in the cities in 2023, with the ultimate aim of creating solutions that will create better futures in cities around the world.
"Together with the four cities, the winning teams are now planning for system demonstrators. We have big hopes that this will accelerate a just transition to climate neutral cities, rather than incrementally improve the efficiency of cities climate action today," says Olga Kordas, Programme Manager of Swedish Strategic Innovation Programme Viable Cities.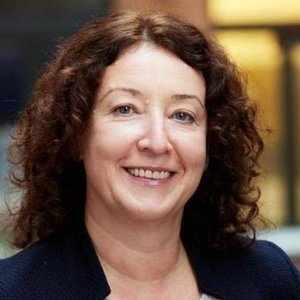 The Team Creation Phase
Ignite Sweden was in charge of the team creation phase. Since January we have worked actively to form teams based on the pool of finalists that have a shared approach on how to address the challenge of the four partner cities.
"Our role was to enable the finalists for each city to get to know each other, help them identify points of connections and support them in creating teams that together shared an idea of how they could tackle the challenge from a system perspective," explains Linus Arnold, Innovation Process Leader at Ignite Sweden.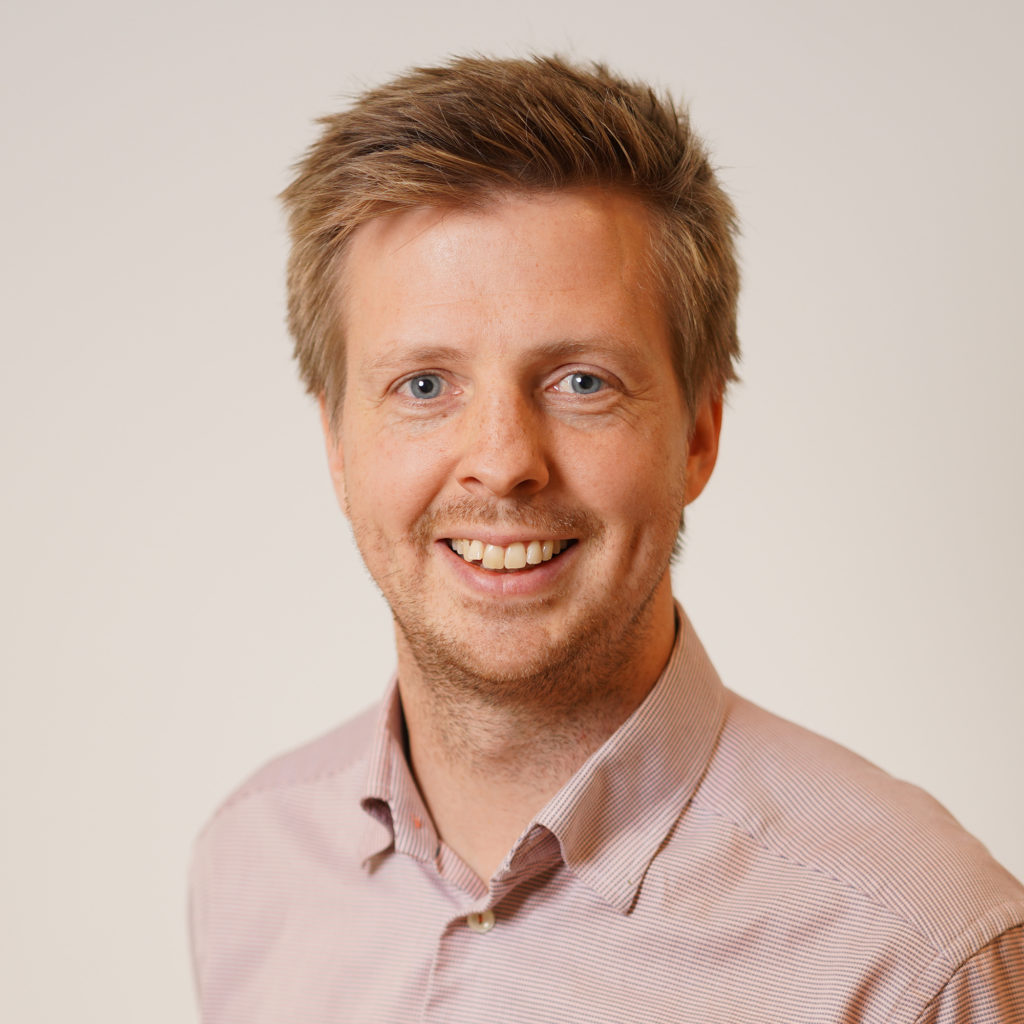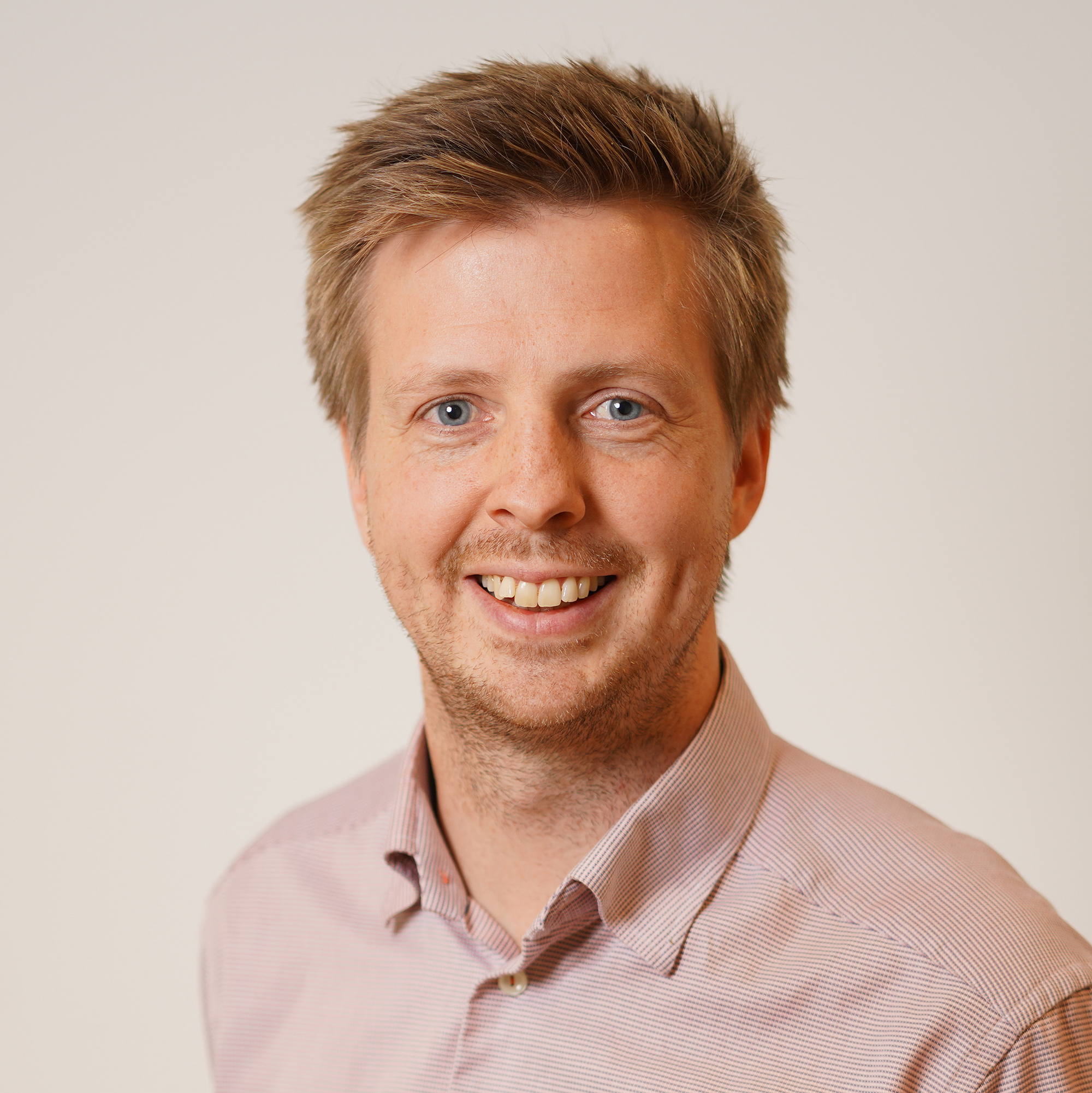 During the phase, Ignite organized, together with UN Habitat and Dark Matter Labs, a series of activities, including meetings with the city participants, seminars, workshops and office hours to help the finalists better understand the challenge and the local ecosystem of each city.
Ignite also assigned coaches to support the finalists in finding synergies with the other participants, exploring the possibilities of collaborating and finally proposing an innovative approach with the potential to tackle the cities' challenges.
"To gather smart people with different backgrounds and different perspectives to solve a wicked problem really shows the power of innovation," says Andreas Stubelius, Senior Consultant at Adect, who coached the four finalist teams for Bristol.
The business-oriented law firm Synch was also part of this phase, giving legal support to the finalists and providing various agreement templates to ease the collaborations within the teams.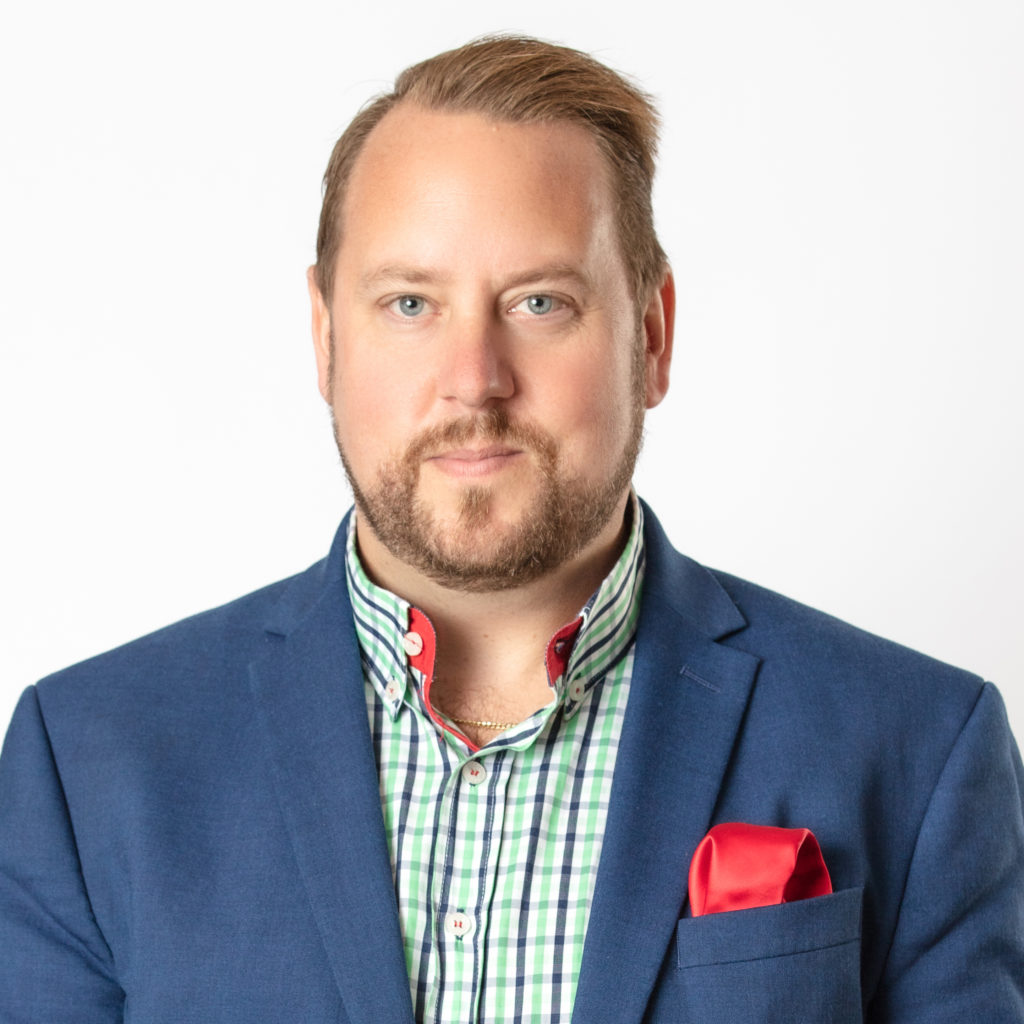 "International multi-parties collaborations with innovative approaches give rise to a number of legal challenges, not the least related to intellectual property rights. It has been a great pleasure to assist the teams to navigate through the legal landscape," says Mathilda Nordmark from Synch Advokat.

The Winning Teams
These are the four winning teams and their proposals:
Green Routes (Bogotá, Colombia): "Our vision is to develop an integrated AIoT (Artificial Intelligence of Things) platform for freight transportation that offers listing, searching, matching, planning, optimization, and monitoring in real-time. This platform will reduce traffic congestion and carbon emissions while improving the ease and efficiency of shipping goods and the overall quality of life in Bogotá."
Thriving Places (Bristol, UK): "Responding to the climate emergency, our focus is on strengthening Bristol as a holistically healthy city. Priorities include optimising the potential of every underutilised brownfield site and redefining development value for a new, broader definition of viability. Thriving places will provide decent housing for all using carbon-neutral climate-smart solutions."
Smart Neighbourhoods (Curitiba, Brazil): "We propose a decentralised model of urban public cleaning services performed by residents, with an education program focused on household energy consumption efficiency, the availability of "smart points" of delivery of waste and mobility, and the implementation of a local composting program for small urban farms."
Green Community Cities – Makindye Ssabagabo, Uganda: "Our shared goal is to develop affordable, sustainable net-zero housing within the context of an integrated solution addressing these objectives on both the individual building scale as well as the neighbourhood scale. Our shared approach will deliver a demonstration adapted to the needs of the local MS community, while simultaneously being scalable for wider economic and sustainability impacts."
About the Climate Smart Cities Challenge
The Climate Smart Cities Challenge is a global initiative led by UN-Habitat and Swedish Strategic Innovation Programme Viable Cities with the support of over 20 partners, including Ignite Sweden, that harnesses the creativity and energy of innovators to work in teams with cities to help achieve global net-zero and create a better future for all.
Ignite Public has launched a guide with everything startups need to know when implementing pilot projects together with municipalities, regions and other public sector organizations.
Many public sector organizations are currently facing challenges around democracy and sustainable development including the energy transition, an aging population and the safeguarding of democratic processes. Sweden's startups are at the cutting edge when it comes to creating innovative solutions to solve many of these crucial challenges.
Since 2019, Ignite Public has served as a link between startups and the public sector, supporting over 40 pilots between these actors. During the implementation of these pilots, the initiative has amassed experience and knowledge in order to learn and remove obstacles to better facilitate these collaborations.
"Ignite Public aims to ensure that the collaboration between public actors and startups is the best it can possibly be for both parties. As part of this work, we have created a guide that can facilitate successful collaborations," says Ignite Public's Project Manager, Mikaela Färnqvist.

Helping Startups Test New Solutions on a Small Scale
The recently launched guide, developed in collaboration with municipalities, publicly owned companies and startups, aims to give startups the right tools to succeed when implementing pilot projects and developing products and services for the public sector.

"A pilot is a test on a small scale where we experiment with new technologies and learn new ways of working. For a relatively small investment, we remove the uncertainty for both parties. We see what works and what doesn't. We learn and keep building. This creates an internal learning process," explains Marit Finch-Westin, Innovation Process Leader at Ignite Sweden.
These pilots can be implemented quickly and easily, without too much investment from either the public organization or the startup.
"Confining the project to a pilot minimizes the risks. It is a fast way to test innovative solutions that can then be evaluated and retested," continues Mikaela. "These pilots help startups understand how their product matches the needs of the market, what is missing and what needs to be developed."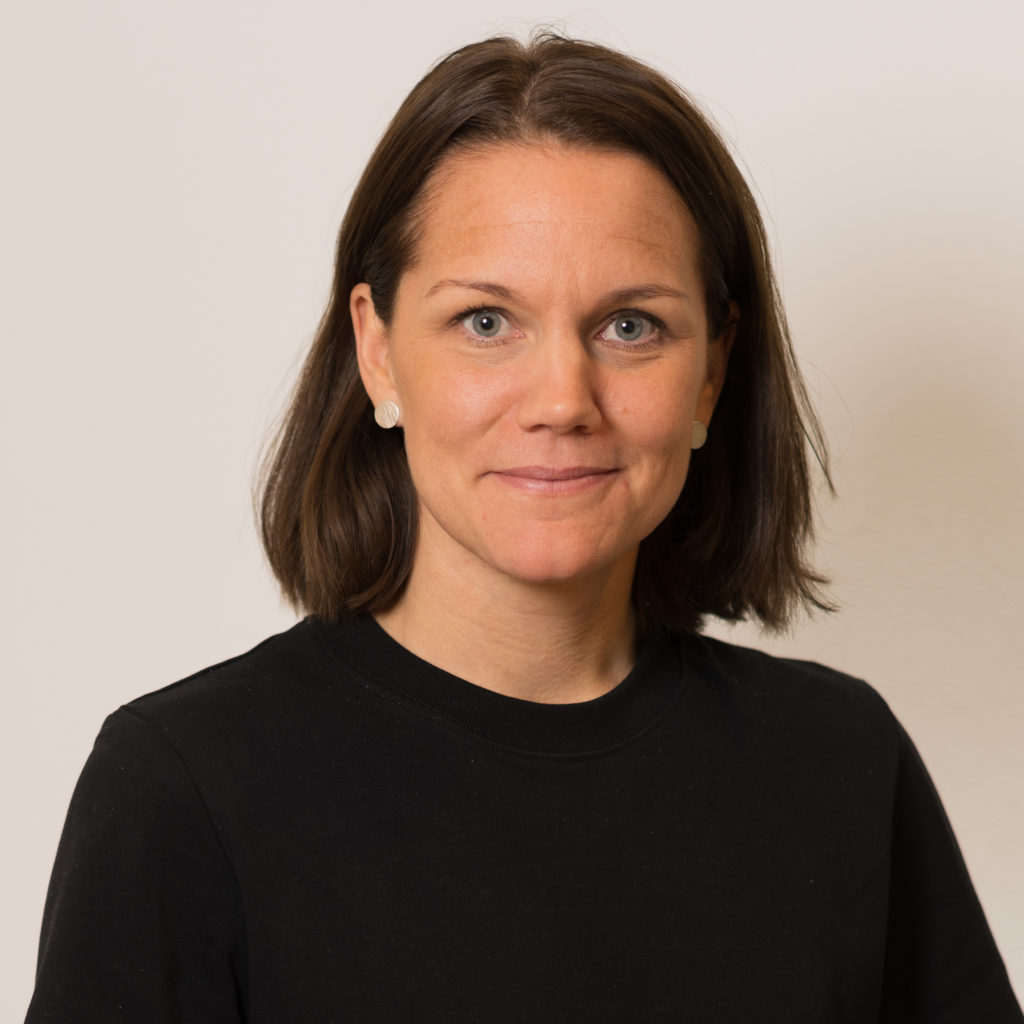 Understanding the Public Sector as a Customer
"The public sector is an attractive market for startups' solutions, but many of these innovative companies don't see the public sector as a potential market simply because they don't understand their needs. It is important that startups understand what to expect when working with public organizations to prepare accordingly and succeed in doing business with them," explains Marit.
Some of the biggest challenges for startups when collaborating with the public sector are understanding the procurement regulations and the internal processes within a public organization, as well as scoping the pilot properly.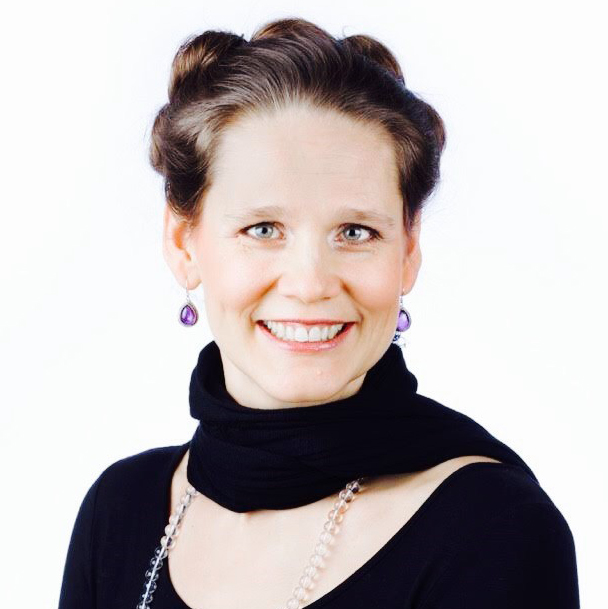 The guide includes valuable tips for startups on what to consider before the initial meeting, a checklist for setting up a pilot project, an overview of procurement regulations and procedures, and questions to think about when scaling up a pilot project.
The first edition of the guide is now available in both Swedish and English.

Click here to download the Swedish version
Click here to download the English version
Three German corporates took the chance to explore the Swedish innovation ecosystem with Ignite's Discovery Tour in Stockholm, Gothenburg and Malmö.
Exploring the diverse offerings of Sweden's three biggest cities, the corporates not only met with startups, but joined networking events and spoke with local research institutes, academics and other innovation organizations.
Across four days, representatives from the German Venture Client initiative STRATOSFARE, including Miele, WAGO, Dr. Oetker and Fraunhofer IEM, participated in a wide range of activities.
Find out more about why they were interested in Sweden and which ideas they would like to see implemented in their own innovation ecosystem.
Why Sweden?
Despite its relatively small size compared to Germany, the participating corporations see Sweden as an important market for their global business strategies, in terms of digital, material and sustainable innovation.
"It was just a great opportunity to talk to them in person instead of just doing it virtually. In every country you'll find a different focus and it is really exciting to get to know the Swedish startup ecosystem and learn more about the Startups solutions in the meetings," says Marie Bierbüsse, Digital Transformation Manager, WAGO.
Her colleague Tobias Lehmann (Digital Transformation Manager) adds "at WAGO we have a global approach to startups and that's why we want to get to know the northern parts of Europe. We want to get to know the startups personally as well as the ecosystem in detail here."
Miele also felt that coming in person gave them a more holistic picture of Sweden's innovation ecosystem.
Senior Technology Manager, Daniel Kinder shares that "You get to know the people so well, not only the startups, but also the surroundings. It gives us a deeper understanding of how it works in Sweden. What are the benefits and how the system works. We had also heard that Sweden and Scandinavia are more digital and now we could really experience that."
His colleague Rebecca Hanke (Technology Scout) adds that "a lot of material and sustainable innovation is here (in Sweden) and that's very good for us because sustainability is also a very large part of our strategy.
Meeting the Startups
The matchmaking sessions in each of the three cities made up a core piece of the tour and corporates had a chance to meet a diverse range of local startups with sustainable, digital and material solutions.
According to Dr Oetker's Senior Technology Engineer Industry 4.0 / Operational Excellence, Julian Hentze, all of the meetings were really professional, friendly and worthwhile.
"Everyone was very open. I tried to always take the same structure and get to know about the startups, their situation and the development and also their unique selling points. The meetings were very positive and we can connect with the startups and will see how we proceed."
For Miele it was important to meet with a range of startups within different sectors and have a conversation about how they could fit into the company's strategy.
"We met materials startups, software startups, smart home startups, so it was very diverse," says Rebecca.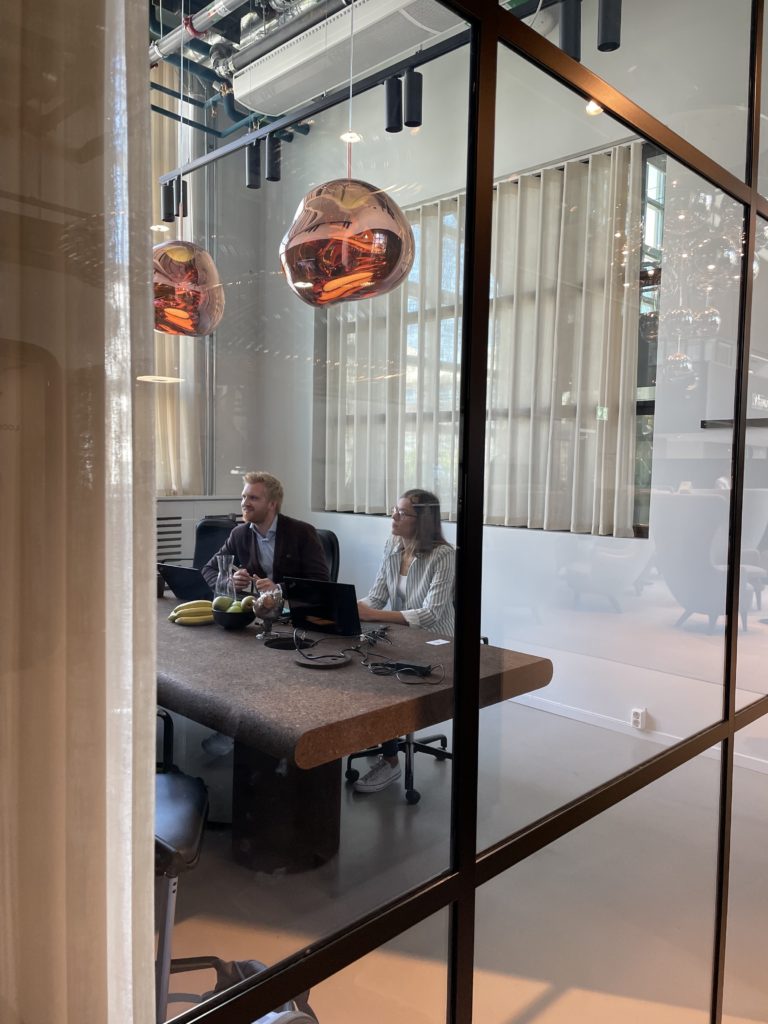 "The startups were mature so we can really start directly with them. Once we have all the connections internally, then I think there will be some really nice projects coming up over the next months," adds Daniel.
Even meeting startups that may not be able to begin a collaboration directly can be valuable for the future according to Rebecca.
"It's also possible that we don't currently have enough resources to make a project, but we have you in mind. Maybe (then we can say) let's connect again next year or in six months. So it's also about the network that we built up."
She adds that the other advantage of in-person matchmaking was the ability to have impromptu meetings "sometimes we didn't have a scheduled meeting with a startup but they (one of the other corporates) says, 'hey, maybe this is also interesting for you,' and that's really what we want to achieve with being here."
Exploring Sweden
Beyond the matchmaking there was also the opportunity to explore other aspects of the Swedish innovation ecosystem with events at both KTH in Stockholm and Minc in Malmö that allowed the participants to meet with academics, incubators and other innovation actors. For Fraunhofer IEM, it was important to connect with various actors to develop future relationships.
"We're really excited to come to Sweden, not only to bring corporates from the Stratosfare Initiative together with the Swedish startups, but also to get connected to the research landscape in Sweden, like RISE, which is really similar to Fraunhofer, and KTH in Stockholm, as they also focus on startup collaborations and how to enable companies to profit strategically for startups," says Lennard Haarmann, Project Manager at Fraunhofer IEM.
A visit to sustainable bike company CAKE in Stockholm was also a highlight and was something that Daniel felt would not have been as impactful in a digital forum.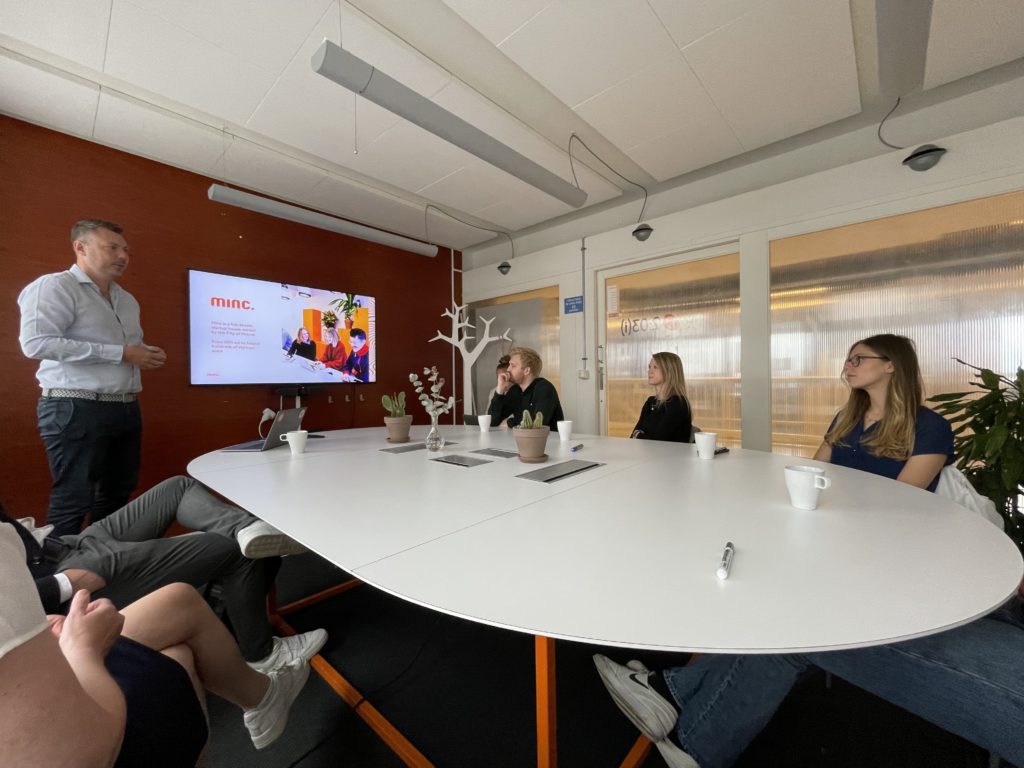 "It was really great to also see the products, and feel the different wood components. You can smell it, that it's not plastic, but really smells like wood. And that's something you can't translate in a digital format."
Travelling to more than one city was also extremely beneficial for getting a better understanding of how innovation works across the country and the various specializations of each area.
"There are so many highlights on this tour. The startups we got to know, the events we could attend and of course the different cities. We saw a little of Stockholm, Gothenburg and Malmö, and it was very impressive to see the difference and get to know the people there and get a deep dive into the ecosystem," says Tobias from Wago.
Bringing Ideas Back to Germany
After spending four days in Sweden, one of the key themes coming from all of the participants was the need for more collaborative spirit in Germany as well as more overarching opportunities to connect with each other at a national level.
"What we should learn in Germany is to have an organization which really connects different areas, locations and topics. I like the way of cooperation in Sweden, because I think it's worthwhile to cooperate with a wide range of partners. We have to learn that it's not necessary that everybody does his own thing and reinvent the world many times. It is important to learn from each other and cooperate to get good results," says Julian.
Acknowledging the challenges, Lennard would also like to see more access to the German innovation ecosystem.
"We have a really heterogeneous landscape of startup initiatives like incubators, accelerators all over the country. We need something like lgnite in Germany, an organization which bundles all these activities and makes it easier for external partners like corporates to access the German startup ecosystem," he says.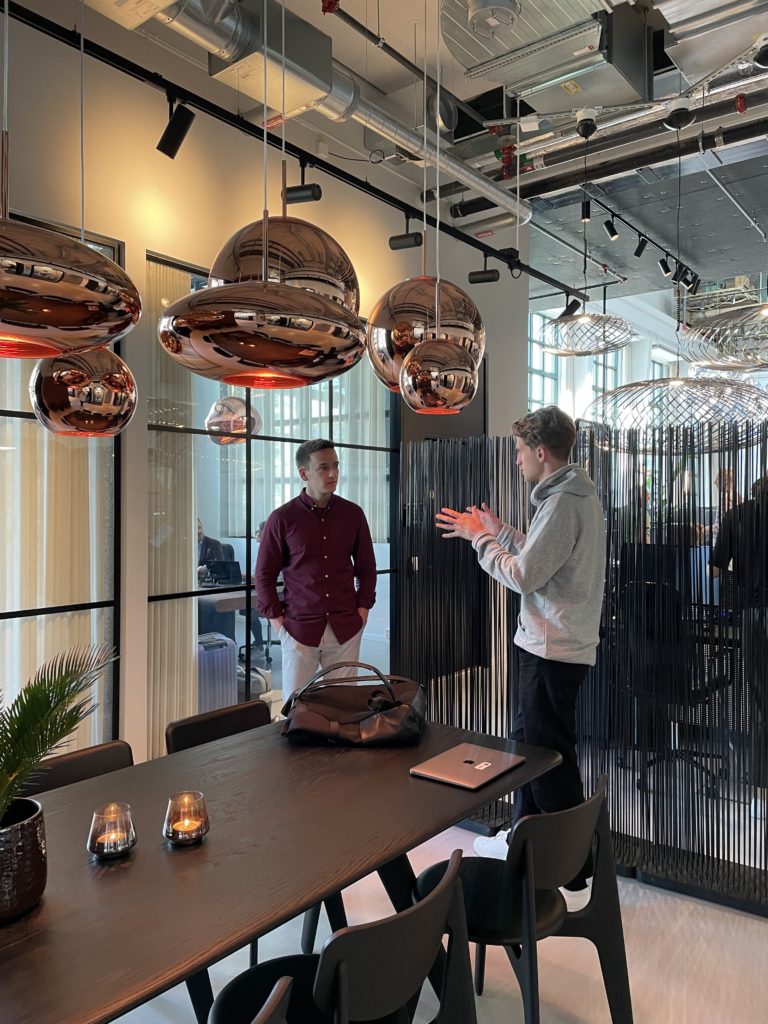 Overall everyone was able to gain a lot of insights into the Swedish system and begin to create some ongoing connections for the future.
"We have been able to ask so many questions and get more insights into the Swedish ecosystem. So, we are going back to Germany with a lot of impressions from the ecosystem, from the startups and also from Ignite Sweden. It was a great tour and I would definitely do it a second time," says Marie.
The Spring matchmaking season finished up with the European Startup Matchday with eight corporates from Germany and France meeting 38 Swedish startups.

The 46 meetings gave startups and corporates the chance to meet digitally and discuss potential collaborations that will lead to a more connected future. 
Linn Sidahl, our Project Manager Matchmaking here at Ignite Sweden acknowledges the importance for startups and corporates to expand into other European markets beyond Sweden.
"Many of the Swedish startups and scaleups registered to Ignite are looking for a global market from day one and these matchmaking events are an important way for them to do this."
She adds that "both Germany and France are very strategically important markets for startups, primarily because these countries are market leaders in a number of key industries for Swedish companies including automotive and industrial engineering."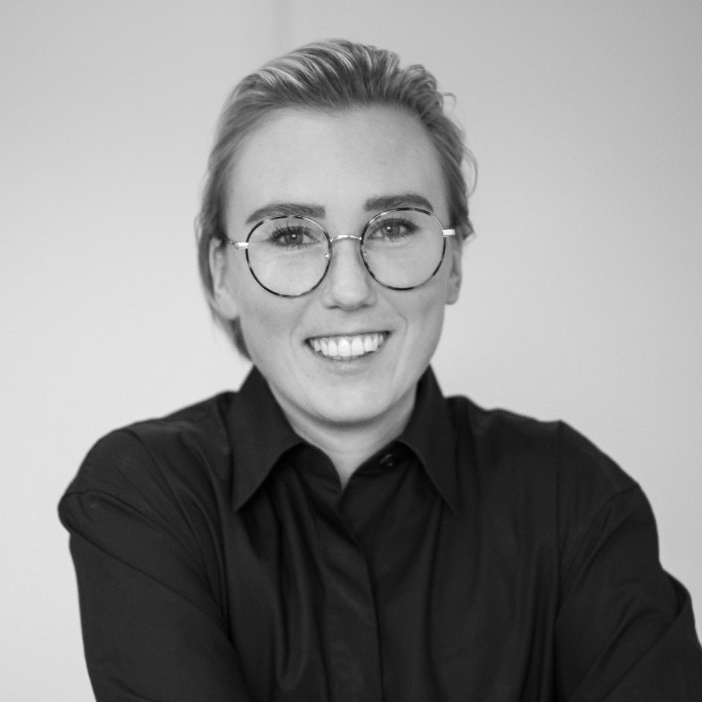 Tom van Gemeren, VP of Business at Visage Technologies, a startup working with facial recognition, detection and analysis, agrees, saying that the amount of innovative companies within their sector was a driving factor to join the matchday.
"The large number of automotive companies that are at the forefront of innovation make these markets very interesting for us. It was great to hear about the concrete possibilities corporates create for startups to contribute to established products. The 20 minute meeting gave us a head start into further follow-ups," says Tom.
Exploring a More Connected Future
LEAD alumni Epishine who have created a new, organic thin-film solar cell, that can harvest indoor light energy, also aims to work in a global market and sees connection as important at both a technical and business level.
"The technology development is focusing on data collection of all sorts to optimize, gain insights and develop connected buildings further. We, as an innovation driven company, challenge the traditional approach to power and develop sensors which enables large corporations to be in the forefront of sustainable technology development," says Daniel Westling, VP Sales and Marketing at Epishine.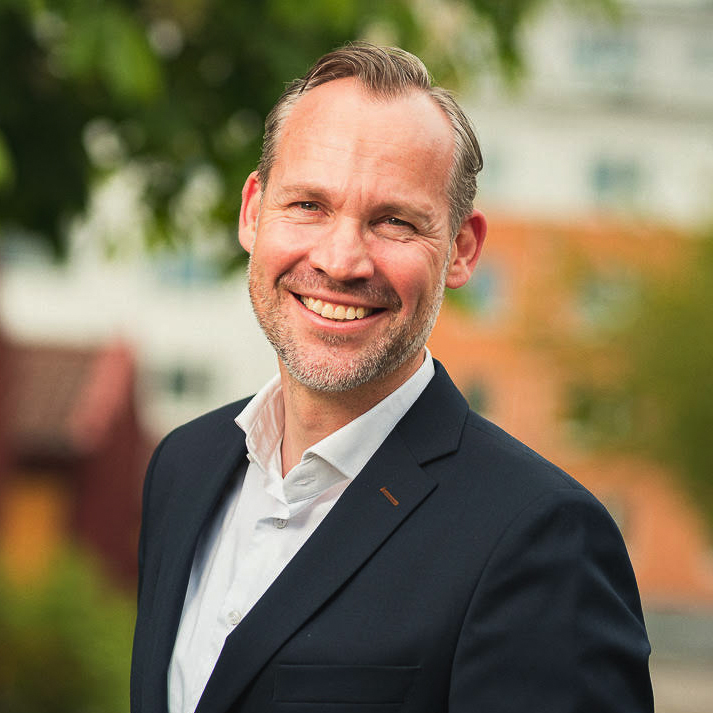 Adding that "from our perspective we are able to expand knowledge about our solutions at a higher pace when we get the possibility to present our knowledge and possibilities to larger corporates."
The participating corporates were Dr Oetker, Giesecke & Devrient (G&D), Liebherr, Miele, Renault, SICK, WAGO and Warema.
This event was organized in collaboration with Hub France IA, appliedAI, Things, the Embassies of Sweden in France and Germany and Business Sweden. It is funded by Vinnova – Sweden's Innovation Agency as part of the French, German, Swedish Innovation Initiative.
Together with VNTRS, we held an event to share best practices and lessons learned from corporate and startup collaboration.

During the evening, 50 startup and corporate representatives listened to success stories from collaborations, fireside chats, and startup pitches. The event aimed to give both Ignite members and VNTRS portfolio companies the chance to meet each other and share best practices and learnings between them.
"We have fantastic people and companies in our network who definitely benefit from meeting in person. In this case, we also got to merge the know-how and some of VNTRS' portfolio companies into the mix. This highlighted ways of developing and growing your business with different partnerships and investment models that we at Ignite do not normally focus on, but we know are crucial for startups. So I am happy that we decided to join forces with VNTRS to make this happen," says Ignite's Head of Startup Relations, Cathrin Johansson.
VNTRS is a consultant and investment company that helps entrepreneurs and large corporations to build innovative digital products and services. Since 2019, our initiative has cooperated with the company in the development of the platform Ignite Magic.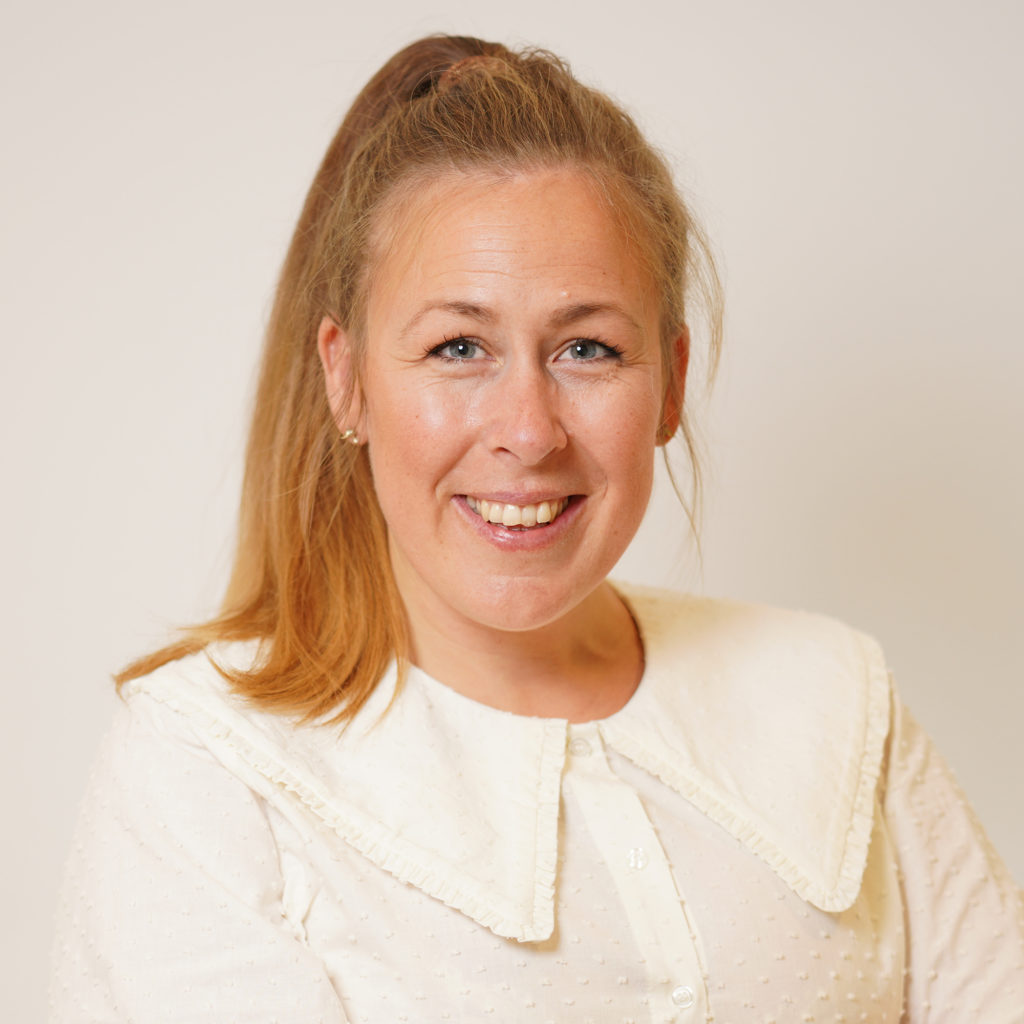 "Startups need to find good corporations that actually need their services. Corporates also need to find startups to innovate, not only to defend their position but to grow. I'm very proud to have this event together with Ignite as that's their sole purpose, to make this matchmaking happen," says VNTRS COO Joachim Widd.
"VNTRS was founded by only four people. We were all product founders before, so we learned a lot from our mistakes and success. I honestly think it is the mistakes that are the most humbling and where you learn the most," reflects their CEO Kristaps Prusis.
Broadening Corporate Perspectives
The evening continued with a panel discussion with representatives from the Swedish forestry company Södra and the multinational technology corporation IBM on the success factors and KPIs when collaborating with startups.
"IBM turned 111 years old this year. We have rethought what we are about a couple of times and that is what we try to do regionally and globally," says Urban Roth, Leader of IBM Innovation Studio Sthlm.
The corporation is looking for partners in the region that complement the multinational offer, engaging around 15 partners per year.
"We are trying to go from reactive to proactive in terms of looking for more diversity in founder teams. We are on the scout for impact companies that are contributing to sustainability. We are now really trying to connect the ecosystems so all these impact companies can create a real corporate impact that also has measurable results," he adds.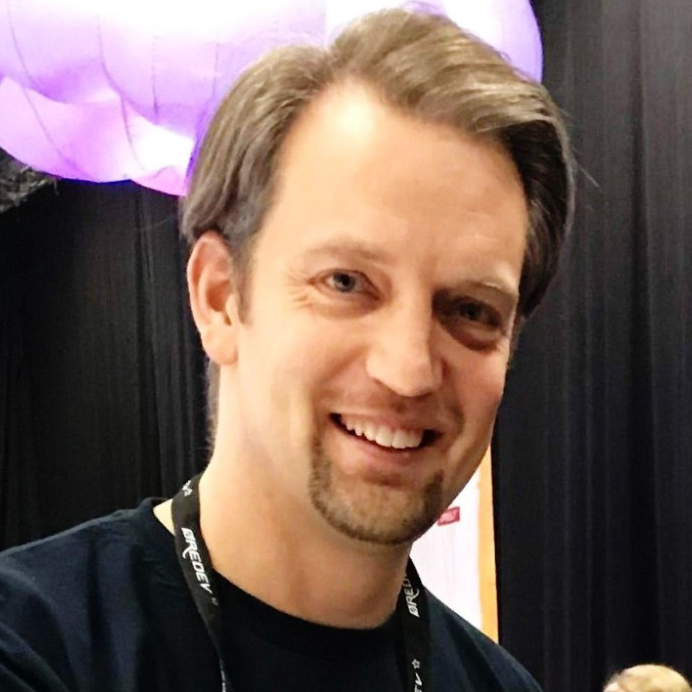 Södra's Investment Manager, Erik Bengtsson, explained that they wish to offer a much broader perspective to be relevant as a forest company. When it comes to collaborating, Södra looks for startups that drive innovation to the forest farm.
"That includes smart business models for tourism, for instance, but also ideas within carbon rights and biodiversity and there are many ideas that include drones, AI and systems that give you better information on how to manage the forest. Anything that makes the forest life better," he says.
Building successful strategic partnerships
Beleco, Combify, Biofiber Tech, IPercept Technology, Mavenoid and Thermaiscan Technology were the startups that took to the stage during the evening to share the lessons learned from their collaborations with corporates.
"It is extremely important for us to qualify our customers based on their improvement culture and openness for disruptive innovation. We aim to build up strategic partnerships, where we can scale up and supply our technology for hundreds of machines. In order to invest into these partnerships from our side, we need to make sure that the right improvement culture is given, so that we will have the conditions to scale up."says IPercept CEO, Karoly Szipka.
Biofiber Tech's CEO, Eric Zhang, highlighted the importance of strategic fitness.
"It is important that you can align your strategy, whether it is product or market, with the corporate's strategy. You need to get their commitment. If the corporate wants to do it at the top strategic level, you will get their commitment sooner or later," he says.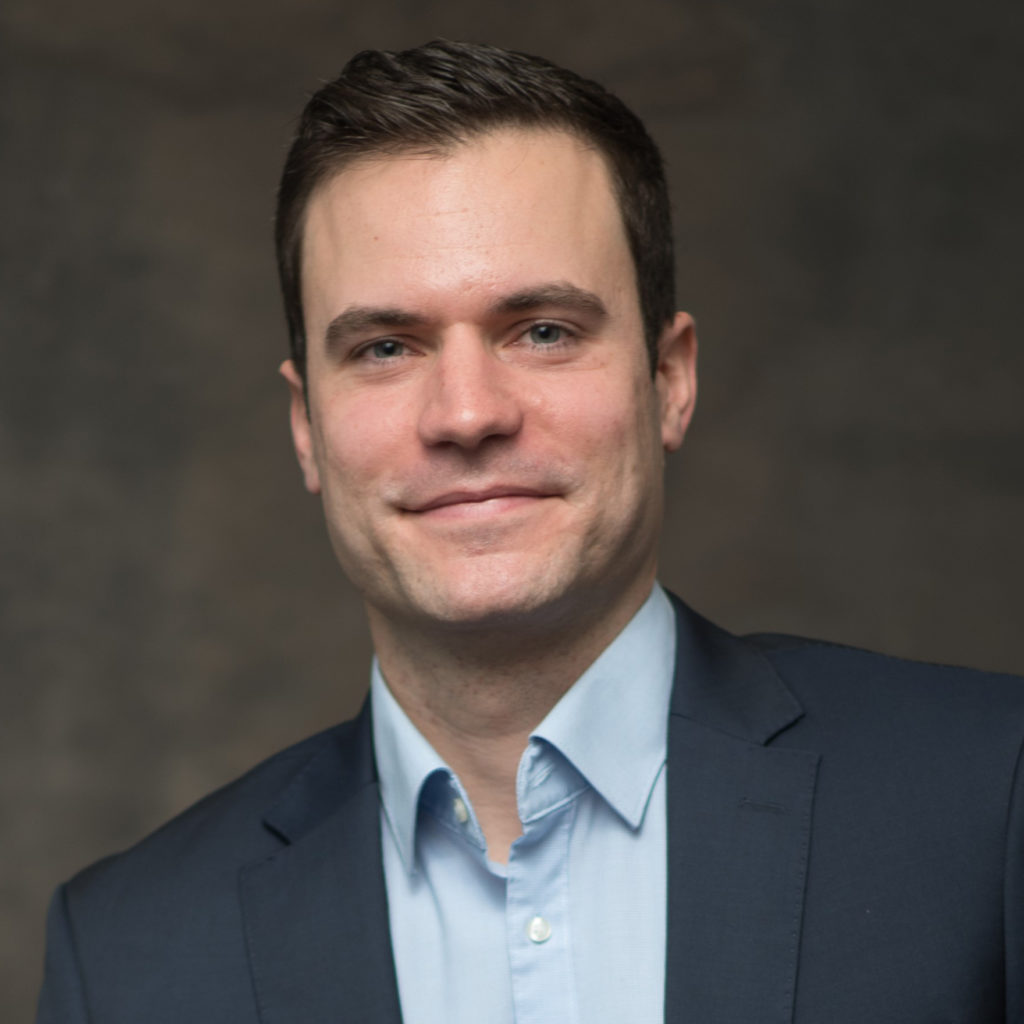 Program Manager at Ignite and Vice President of our lead organization SISP, Stina Lantz participated in a panel discussion at Dagens Industri's Impact Summit during Sweden's biggest week in politics –  Almedalen.

The panel focused on what impact companies need to scale and make a real difference as well as diving into what is on companies' 'wish lists' when it comes to impact.
Joined by Filip Åström from Aros Kapital and Tobias Björk Andersson, a partner at Myrspoven, Stina highlighted Ignite's work where we actively work to find customers for startups with a particular focus on impact startups to assist them in bringing their innovations to market. 
Here, the public sector has huge potential for impact as the sector procures services/products for an average of SEK 800 billion a year. By opening up this large market to impact startups, the resulting innovative partnerships can actually ensure that we approach the climate goals.
The panel also explored the need for greater understanding of the long-term returns of impact startups. It is difficult to think of quick financial gain with this type of startup. Instead, it is much more important to recognize the societal benefits of these investments rather than just the economic ones.
Tobias Björk Andersson, from Myrspoven, a company that reduces energy consumption in buildings in the long-term using AI technology, believes that a key issue is ordinary people's lack of understanding of the importance of working with sustainability in the long term and its impact on the climate issue. Here, he says Sweden needs to get better and act faster.
So far Ignite Sweden has worked with 12 municipalities throughout Sweden to help facilitate collaborations with impact startups, but if we are to achieve the Global Goals and find more innovative solutions to the current and future climate challenges, significantly more people need to be involved.
But what do impact companies need more than capital, time and customers? Filip Åström directed this back to Dagens industri and said that the media can also do something – give these startups more exposure in the press.
A project led by Avfall Sverige, Ignite Sweden and partners resulted in two pilot projects between the city of Mölndal and the startups Brighteco and Parlametric.

Startups can contribute to waste reduction by improving the reuse and recycling of products. This is one of the key conclusions of a project led by Avfall Sverige, together with partners including Ignite Sweden, that aimed to increase the reuse of household bulky waste by matching startups with innovative and circular solutions to recycling centers.
Behind the project are Avfall Sverige, Business Region Göteborg, Göteborg Kretslopp och Vatten, Ignite Sweden, Södertälje Municipality, Södertälje Science Park, Sörab, Telge Återvinning and VafabMiljö.

The Matchmaking
Everyday at their recycling centers, municipalities receive a significant amount of things that could have been reused or recycled. To tackle this problem, they are looking for innovative solutions that can help society improve the reuse and recycling of products.
Ignite Sweden played an active role in the project, conducted between September 2021 and February 2022, by using our method for scouting and matchmaking startups with the needs and challenges of the recycling centers. The goal of the project was to initiate two pilot projects to test new solutions and business models.
After a process where the challenges were shown to 1,900 startups, 34 companies applied to join the project. Twenty startups with a wide variety of solutions were selected to participate in a matchmaking workshop onsite at recycling centers located in Södertälje and Gothenburg as well as a digital event with Sörab.
"There was a great interest from startups in our network to work with recycling. One challenge for them is that they cannot run development projects without funding, but as long as there is a budget, they will proceed with the project," says Cathrin Johansson, former Head of Startup Relations at Ignite Sweden.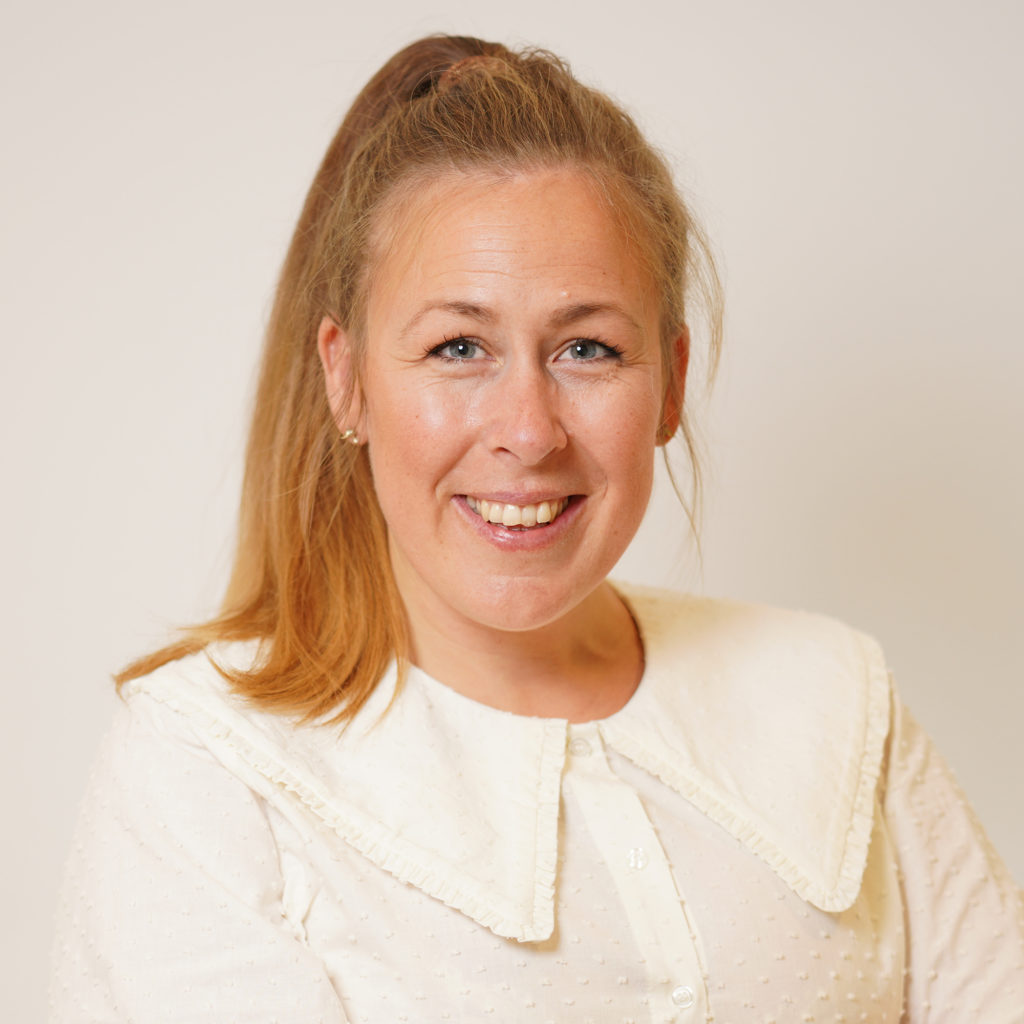 The Selection
Two important factors in the selection of both the startups and the recycling centers for the pilot projects were to make sure that the startups had the capacity to run the pilot and that the needs owners had the mandate and budget to actually implement the pilot in 2022.
Procurement managers were involved in the process to ensure the pilots were conducted in accordance with the laws and regulations of the contracting authorities.
The city of Mölndal was one of the participating organizations that were matched with startups during the workshops in December. After the workshop, they expressed a great interest in running the pilots and signed two deals with the startups only a month after the workshop.
The startups that were selected for the pilot projects were Parlametric, a company from Lund that works with narrative analysis of text and speech data, and Uminova Innovation alumni Brighteco which delivers light as a service.
"It is fantastic that the project has led to real business. The project has demonstrated that there is a real interest from all participating parties to be part of the solution. There were many great ideas among the startups that could also be tested in potential future pilots," says project manager Tomas Thernström.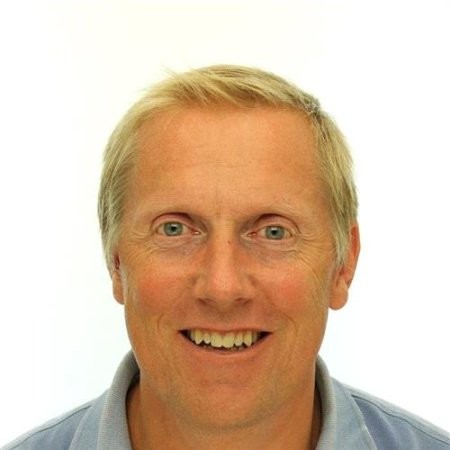 The Pilot Projects
These are the two pilots that resulted from the project:
Smarter digital survey
A collaboration between Återbruket Kikås in the City of Mölndal and the startup Parlametric
The pilot aims to analyze data in order to understand the driving forces, reasoning and obstacles when it comes to donating for reuse.
Light of our waste
A collaboration between the city and Mölndal and the startup Brighteco
The project aims to collect broken flat screens to be used in the manufacturing of lighting fixtures.
Photo: Brighteco's Stefan Smedberg inspects the TV and computer monitors left at a recycling center. Photo credit: Avfall och Miljö