Sweden Innovation Days is returning for the third time in 2023! The free digital event will focus on how to enable innovation that has a real impact on our society, environment and economy. Despite Sweden being a climate front runner, we still have a responsibility to contribute to the Global Goals.
The primary goal is to provide an international platform to share best practices, knowledge and meet innovation partners from around the world. The conference will feature a digital mainstage program with key experts, case studies and interviews that go beyond the theoretical to explore the practical ways innovation can address today's biggest sustainability challenges. Additionally, there will be a broad range of side events conducted by our fantastic conference partners to dive deeper into the important topics covered on the digital mainstage across all three days.
Each day will focus on a different aspect of innovation:
Day 1 – Paving the way for innovation: Exploring how government agencies can foster greater innovation at all levels.
Day 2 – enabling innovation – the Swedish way: Highlighting how Sweden is working towards a more sustainable future.
Day 3 – Creating real results: Measuring how innovation is creating an impact and seeing real results.
The conference is a cooperation between Vinnova – Sweden's Innovation Agency, the Swedish Energy Agency, Formas – a Swedish research council for sustainable development, SISP – Swedish Incubators and Science Parks, Ignite Sweden, AI Sweden and Business Sweden. This year Sweden Innovation Days will coincide with Sveriges Innovationsriksdag in Lund. 
Building a Sustainable Future Together with Startups
It's time for a new edition of Ignite Sweden Summit, our annual conference exclusive for Ignite members and special guests!
This year's summit is focusing on how to build a sustainable future together with startups. The conference program will include keynote speakers, learning sessions, case presentations, panel discussions, workshops and more.
This will be a unique opportunity to:
Learn new tools and methods for your pilot collaborations
Get inspired by successful stories
Network with other corporate and public sector representatives
Celebrate the success cases born during 2022 at the Ignite Awards
Join us in Uppsala for an inspiring conference on December 1. On December 2, you will have the opportunity to explore one of Uppsala's innovation hubs.

Check out to the program here: https://ignite-sweden-summit-2022.confetti.events/

Ignite Sweden Summit 2022 is co-hosted by Ignite Sweden – part of SISP Swedish Incubators & Science Parks, and Uppsala Municipality.
Join us at this four day digital conference to address the Sustainable Development Goals together.
Sweden Innovations Days are returning on January 17-20, 2022! This time as a free four day, global digital event, dedicated to fostering international collaboration to achieve the UN's Global Goals.
While last year's successful event focused on the role of Artificial Intelligence, this upcoming Sweden Innovation Days will explore how innovation can be used to improve environmental, economic and social sustainability in relation to the Global Goals.
The four day event will feature a packed program including world leading experts in green investment, mission orientated methods, the Global Goals, health and more! Together we will offer a platform for digital meetings including workshops, fireside chats, networking, knowledge sharing and matchmaking sessions as well as practical information about future network and funding opportunities.
Whether you are part of a startup, intermediary or corporate, working in the public sector, civil society, academia or a government agency, there is something at this event for everyone. We all need to be part of the innovation journey to create a more sustainable world.
Four days

Sweden Innovation Days aims to inspire action towards a more sustainable world as well as provide practical methods and success stories on how to achieve this. Each day will focus on a specific theme:
Day 1: Missions to achieve the Global Goals
Exploring both theoretical and practical ways to develop mission-oriented innovation at a global, regional and local level.
Day 2: Preventative health & wellbeing
Promoting preventative measures that help all people to stay physically and mentally healthy.
Day 3: Co-creation for innovation
Sharing tools to innovate in the broadest sense and create inclusive and democratic societies.
Day 4: Climate neutral cities
Building sustainable, just and carbon neutral cities with real action and greener investments.
Speakers

Specialists in systeminnovation, strategic investment, innovation and design, digitalization and democracy. These world leading specialists will share their knowledge on the digital mainstage across all four days.
Firstly we have our moderator for all four days Aurore Belfrage from BCB Ventures. She will be joined by a new co-moderator each day including Anders Brinne & Dan Hill from Vinnova – Sweden's innovation agency.
On the digital mainstage you will also meet:
Darja Isaksson, Vinnova – Sweden's innovation agency
Banny Banerjee, Stanford Changelabs
Patrick Child, European Commission DG Research & Innovation
Malin Lindberg, Luleå University of Technology
Carl Heath, RISE Research Institutes of Sweden
Andreas Netz, Vinnova – Sweden's innovation agency
Ebba Carbonnier, SweLife and Karolinska Institutet Innovations
Magnus Björsne, AstraZeneca BioVentureHub
Maria Stenström, the Swedish 2030-secretariat
Dennis Pamlin, RISE
Magnus Frodigh, Ericsson AB, GFTL Technology, Ericsson Research
More speakers will be announced soon.
Sweden Innovations Days is a three-day worldwide event with AI in focus that will take place on 17-19 November.
The programincludes:
keynote lectures and panel discussions about how AI is transforming Sweden and the world
user case presentations where you can learn the key factors to successful AI collaborations between corporates, public organizations and startups
a masterclass with top Swedish entrepreneurs
a pitch competition with AI startups from 10 countries
a discovery journey of 23 leading innovation hubs
and so much more!

Ignite Sweden is one of the organizers together with AI Sweden, Ignite Sweden, the Swedish Energy Agency, SISP – Swedish Incubators & Science Parks, and Vinnova – Sweden's innovation agency. The event is co-hosted by leading innovation hubs from Sweden, Brazil, Canada, France, Germany, India, Israel, Japan, South Korea, and the USA.
The registration is free of cost and it will be live-streamed so you can follow it wherever you are! SIGN UP NOW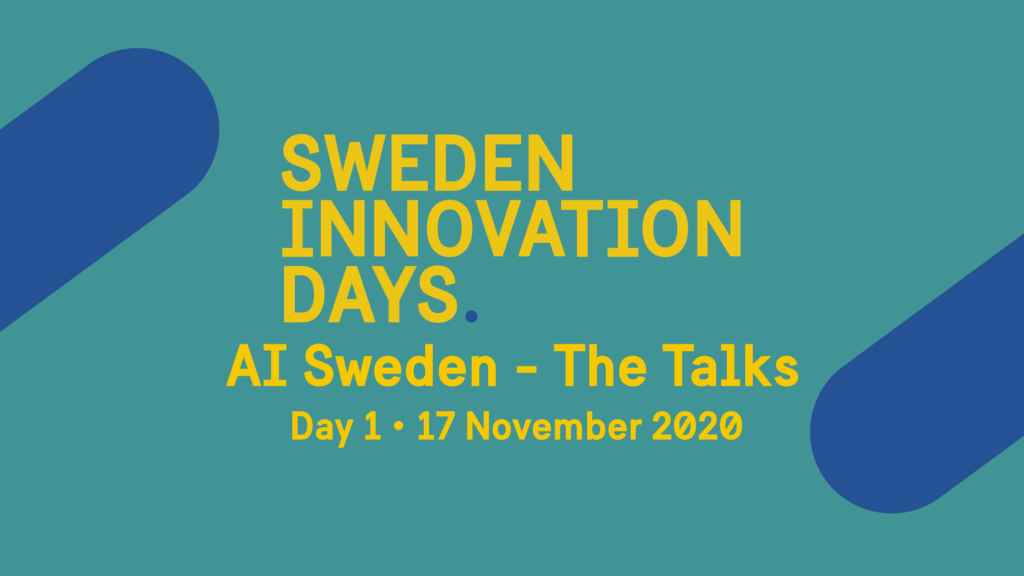 Transforming Sweden in the rising era of AI through national and international collaboration
Time: 14.00 – 19.00 CET
Format: Online

With industry and innovation in focus, we will show the amazing power of Sweden as an AI & innovative nation.

During the live broadcast, you will hear more about what currently is happening in the Swedish AI ecosystem through keynote lectures and panel discussions. Listen to Swedish thought leaders and international keynote speakers share-their view on the development of AI and innovation within all of the six tracks:
National Strategy
AI and Industry
Transforming Healthcare
Sustainability and Climate change
Tomorrow's mobility
Our future democracy
CHECK OUT THE PROGRAM FOR DAY 1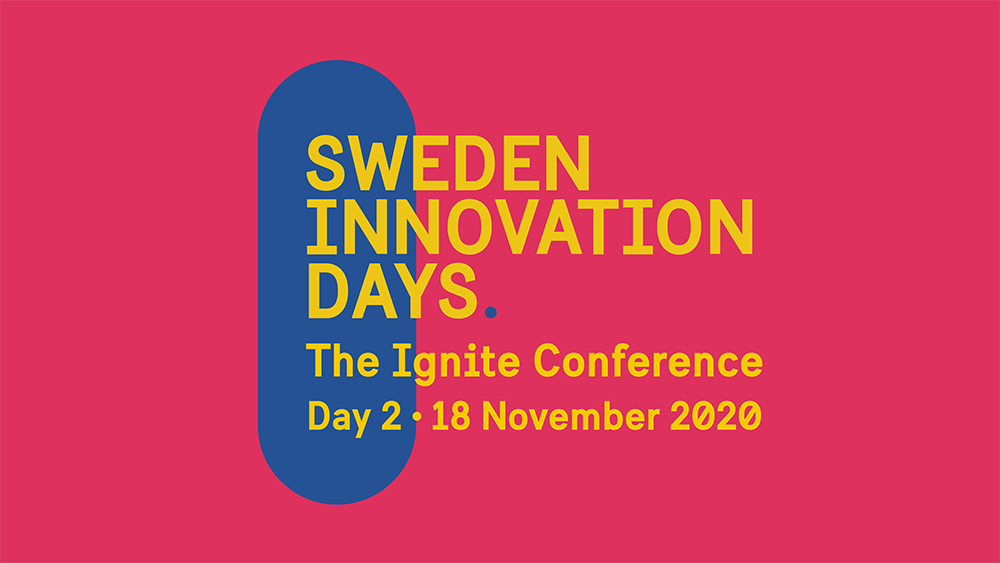 How AI is transforming our present with startup + corporate collaboration

Time: 14.00 – 17.30 CET
Format: Online
The focus of the conference is the success factors that make it possible for industry leaders to transform innovation into real value creation and competitive advantage by collaborating with AI startups.
Case presentations: Corporates such as ABB, Alfa Laval, FLIR Systems and IBM, as well as the municipality of Uppsala, will share details of their collaboration journeys with startups
A deep talk on innovation with Darja Isaksson, Director General at Vinnova – Sweden's Innovation Agency, and Robert Andrén, Director General at the Swedish Energy Agency
Introduction by Marie Wall, startup expert at the Ministry of Enterprise of Sweden
A pitch contest between AI startups from 10 countries

Side activities will take place before and after the conference. Only to name a few:
Masterclass for startups by top Swedish entrepreneurs
Corporate workshop: How to innovate and collaborate with an AI startup
Workshop for incubators: Innovation Ecosystem Benchmark
An international talent matchmaking
Local events at the co-hosts innovation clusters
CHECK OUT THE PROGRAM FOR DAY 2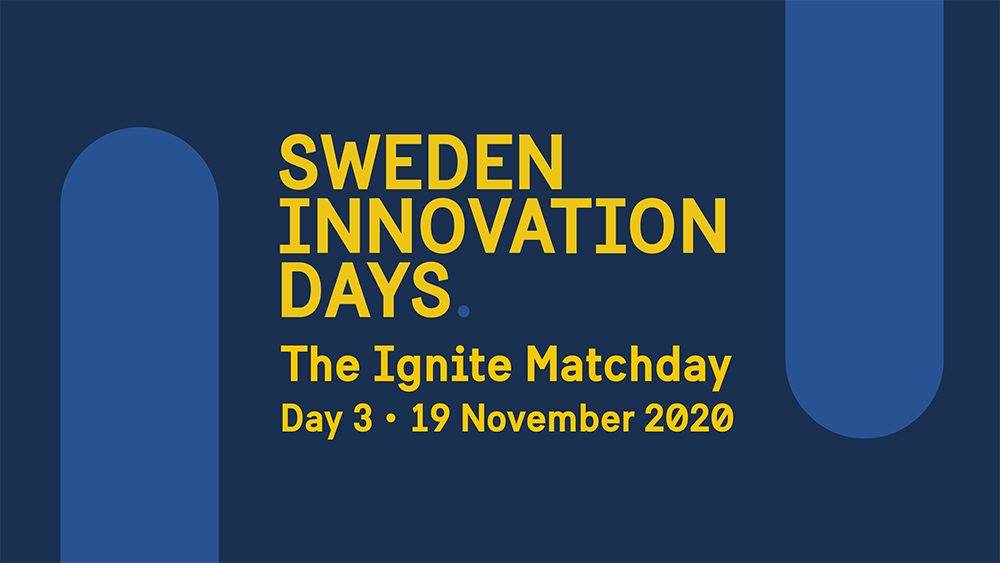 The world's largest tailored startup + corporate matchmaking ever!
Time: 6.00 – 22.00 CET
Format: Online
120+ selected AI startups from Sweden and 9 selected countries will meet over 75 corporates and public sector organizations in 400+ pre-booked curated matchmaking meetings.

Applications for the matchmaking session are now closed. But there will be two side activities open for everyone:
An online discovery journey of 23 highly innovative hubs from Sweden and around the world
Presentations and Q&A on the funding possibilities offered by every participating country by Vinnova and international funding institutes
CHECK OUT THE PROGRAM FOR DAY 3
Sweden Innovation Days' organisers and co-hosts

AI Sweden, Ignite Sweden, the Swedish Energy Agency, SISP – Swedish Incubators & Science Parks, and Vinnova – Sweden's innovation agency are behind the organisation of the event.

The event is co-host by the leading innovation hubs from Sweden: Automation Region, Create Business Incubator, Kista Science City, LEAD (Business Incubator), Lindholmen Science Park AB, Linköping Science Park, Minc, Sahlgrenska Science Park, Sting, THINGS AB and Uminova Innovation.

Some of our international co-hosts are Tecnosinos (Brazil), The DMZ (Canada), Hub France IA (France), UnternehmerTUM (Germany), NASSCOM Centre of Excellence IoT & AI (India), Start-Up Nation Central (Israel), K-Startup Center Stockholm (South Korea) and Nordic Innovation House – Silicon Valley (USA).