The annual prize is initiated by Ignite Sweden and awarded as a part of Power Circle Summit, powered by Energimyndigheten, EIT InnoEnergy and Svenska Mässan. It consists of a commercial project with an Ignite Corporate Member, this year, E.ON. For the first time the project will also involve a public sector organization, Järfälla Municipality.
This winning project will begin at Barkarby Science testbed in Barkarbystaden in Järfälla Municipality. LocalLife will work with E.ON to reduce the amount of plastic going into the incineration plant that converts the city's waste into electricity and heat by encouraging tenants in two residential buildings to reduce the amount of plastic they put in general waste.
Currently, E.ON has no direct contact with household residents and Järfälla Municipality lacks the specific tools needed to promote behavioural change. Stockholm based startup, LocalLife will provide the missing link with a digital platform that encourages residents to recycle more. It will also highlight the benefits of cleaner energy production when there is less plastic being burned as general waste.
"The goal is to further develop the platform and increase our understanding of the value it provides. We want to find ways to collaborate together with the municipality, property owners, energy companies to increase the sorting of plastic,"

says Patrik Nyström, CEO and Co-founder of LocalLife.
Aiming for Long-Term Sustainability
Using waste created by the city's residents to generate energy creates a more circular, resource efficient system, however plastic is an ongoing challenge due to the significant carbon emissions it produces during the process. Lessening this impact is a key part of both E.ON and Järfälla Municipality's long-term sustainability goals.
"Järfälla Municipality faces major sustainability challenges. I believe that innovation and digitalisation are two key factors for achieving these sustainability goals,"

says Jenny Ångman, Head of Innovation at Järfälla Municipality.
"Our goal is that by 2025 all the energy we produce or distribute will be 100% renewable and recycled, so we need to be a driving force for sustainable energy transition in the cities. We want to reduce carbon emissions through scalable business solutions and spread examples of how to speed up this transition. Our customers need help to switch to sustainable solutions and I see collaboration with startups and other actors as essential if we are going to achieve our sustainability goals,"

says Rebecka Höjner, Project Manager for Sustainable City Development at E.ON.
The project addresses UN Sustainable Development Goals 7 (Affordable & Clean Energy) 11 (Sustainable Cities & Communities) and 12 (Responsible Consumption & Production). It aims to increase environmental sustainability within the region and generate greater awareness of the impact individuals can have on clean energy.
"What is good about the project is that it connects E.ON, LocalLife, Barkarbystaden real estate actors and the municipality to collectively implement sustainable recycling. This results in reduced emissions. Currently 28% of what goes wrong is packaging and a significant part of it is plastic, so it is important to address this issue,"

says Stina Behrens, Business Developer at Barkarby Science.
"LocalLife's solution is a great example of how innovation can contribute to solving a comprehensive problem in a circular way where many key players are involved, from energy companies to property owners, municipalities and end consumers. If we want Sweden to continue leading the energy transition, it is crucial that we accelerate the commercialization of these innovations by enabling collaborative projects like this one,"

says Andreas Stubelius, Senior Portfolio Manager at Energimyndigheten – the Swedish Energy Agency.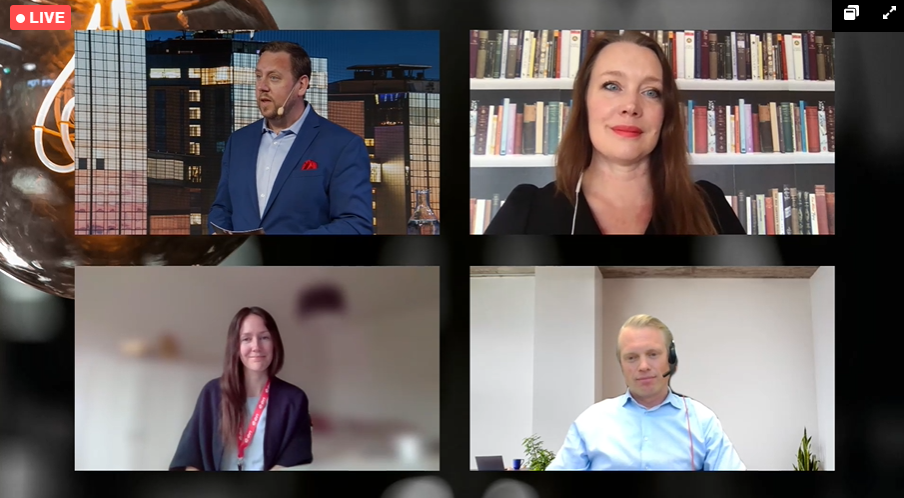 Kommersialisingpriset's Impact on Sustainable Collaboration
LocalLife met both E.ON and Järfälla through Ignite Sweden, a non-profit program that connects startups with potential corporate and public sector customers. Ignite was also in charge of selecting this winning project.
"The prize is a fantastic example of how the private and public sectors can drive change for a more sustainable lifestyle, and how startups can be an accelerator in this transition. It shows that the work we do with public actors at Ignite is important to drive sustainable development, and create good business opportunities,"

says Karin Bengtsson, COO at Kista Science City, one of the initiators of Ignite Public, that matches public sector organizations with startups.
For LocalLife the award is a great confirmation that their solution is interesting to commercial players and can have a positive impact on sustainable urban development.
"This prize is a fantastic opportunity for us to develop together with our partners and prepare a joint plan for further implementation. Finding workable solutions for recycling is a complex process with many actors involved and I think this prize is really for everyone who will be involved in the pilot!"

says Patrik Nyström.
This is the third edition of the Kommersialiseringspriset. The two previous winners were Mimbly in 2019 with Coor Service Management and Univrses in 2020 for their project with ABB. Both of these projects have completed their initial pilots and continued to develop their collaborations further.
Facts about the Kommersialiseringspriset
– The prize is awarded annually and began in 2019 as part of the conference Power Circle Summit.
– The prize was initiated by Ignite Sweden with the support of Energimyndigheten, EIT InnoEnergy and Svenska Mässan.
– The award aims to emphasize the importance of commercial collaboration between established companies and young innovative startups.
– This year's award went to the Stockholm-based startup Locallife for its project with E.ON and Järfälla Municipality
– The winners of the previous editions were Mimbly (2019) and Univrses (2020)
About Ignite Sweden
Ignite Sweden is a non-profit national program that aims to initiate collaborations between startups and established companies. Since it began in 2017, Ignite has facilitated 3725 curated matchmaking meetings between 671 startups and 219 corporations and public sector organizations, resulting in 230+ paid commercial collaborations.
Ignite Sweden is led by Kista Science City, LEAD, MINC, THINGS, Sahlgrenska Science Park, STING and Uminova. The initiative is coordinated by SISP – Swedish Incubators & Science Parks, and co-funded by Vinnova – Sweden's innovation agency and Energimyndigheten – the Swedish Energy Agency.
Ignite Public is a program within Ignite Sweden funded by Vinnova that matches public sector organizations with innovative startups. These collaborations can help address the societal, economic and environmental challenges currently faced by the public sector with solutions from startups.